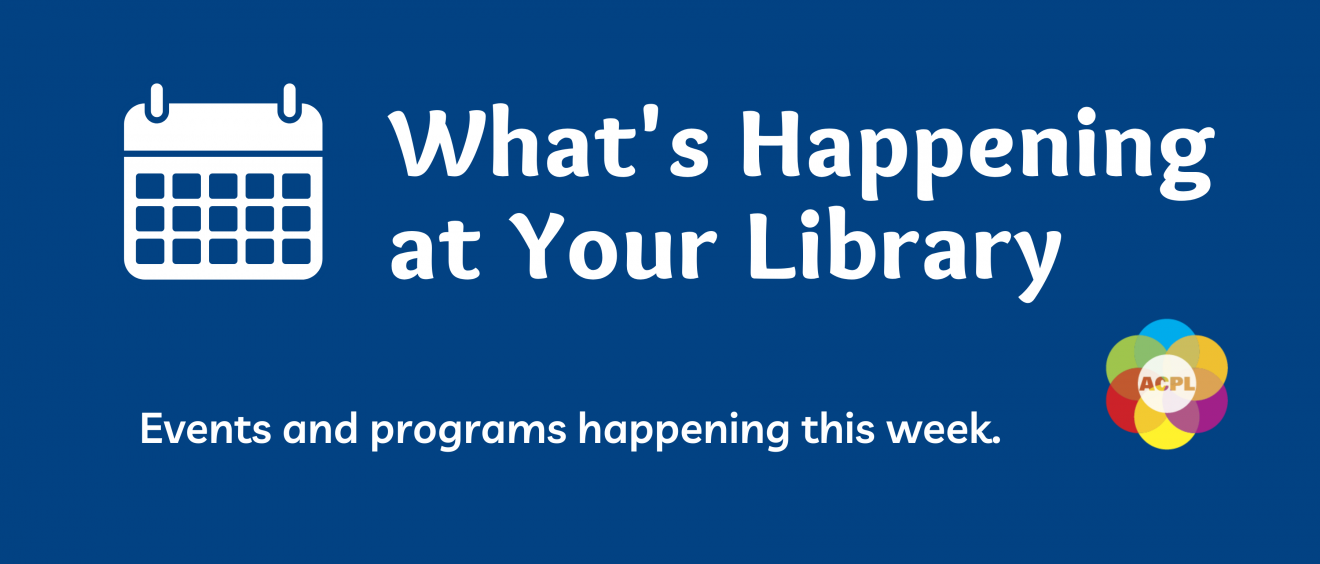 What's Happening at Your Library: Week of July 26–August 1
Check our Events Calendar for future events and updates. 
Ongoing:
StoryWalk® 
An outdoor reading experience for kids and families! Start at the front of the library to find the first sign, then head toward Grand Avenue and around the block to read the whole story.
Dragon I Spy
Dragons have invaded the library! Pick up an I Spy sheet on the whiteboard outside the library or during Grab & Go or Browsing Hours and see if you can find them all! 
Monday, July 27
Indian Paintbrush Book Talk: 2:00 PM
We will be posting on our Summer Reading Facebook group a new prerecorded Indian Paintbrush Book Talk every Monday at 2:00 PM to enjoy at your convenience. We'll do a short summary of the book and read a chapter or two.
ACPL Board Meeting: 4:00–5:30 PM
The ACPL Board meets the 4th Monday of every month at 4 pm. These meetings are open to the public. Meetings are held in the Library's Large Meeting and also viewable via Zoom. Zoom links will be added to our event calendar on the day of the meeting.
Summer RPG- Honey Heist: 6:30 PM
Join us for some tabletop roleplaying games.
Description: Fill out this quick poll join us for a summer of Role-playing Games! 
https://docs.google.com/forms/d/e/1FAIpQLSchm7sKIMXFpKYuYfUpu2wvVVK9FSYLHKjmxS945_uCeN6WKA/viewform?usp=sf_link
For questions please contact Tyler at tbrown@acplwy.org
Tuesday, July 28
Game Night! ACPL Game Bazaar Online: 7:00 PM 
Families and individuals of all ages, join us for our weekly game night on our Discord server and discover ways to play tabletop games online through various platforms. Join us at https://discord.gg/ET7pStp and join the conversation. Email tbrown@acplwy.org if you have any questions.
Pajama Storytime: 7:00 PM
Put on your PJs, grab your favorite stuffie and join us on our ACPL Imagine Your Story Facebook Group for Pajama Storytime with Miss Monica.
If you haven't joined our private Facebook group yet, you can do so here: https://www.facebook.com/groups/acplimagineyourstory
After Hours Book Club: 7:00 PM
Join us through Zoom to discuss Japanese Fairy Tales by Yei Theodora Ozaki (ebook link)! Email Kathi at kwilhelm@acplwy.org for more information or to receive the Zoom invite.
Wednesday, July 29
Here There Be Monsters Zoom Program: 10:30 AM
There are monsters everywhere! But we can imagine monsters are cute too! We'll read a story, do crafts and sing songs. Zoom meeting information will be provided upon completing the form. You will also receive a reminder email before the event. Be sure to pick up your Program Activity kits before the event!
Reservations can be made here:   https://forms.gle/FpvCDWfZPXrActESA
Thursday, July 30
Teen Take-Home Activity Kits available for pickup
Each week we will be featuring a different activity aimed at teens that can be completed at home. Kits with materials will be available at the library during our Grab & Go hours: Tuesday, Thursday, and Saturday 10 AM–2 PM. We will be putting out a new kit every Thursday! 
You can also follow along at home by visiting: https://www.acplwy.org/teens/at-home-activities-for-teens
Stories in the Garden: 10:00 AM
We will be posting on our Summer Reading Facebook group a new prerecorded Family Storytime every Thursday at 10:00 AM to enjoy at your convenience. There will be stories, songs, and lots of fun.
Friday, July 31
Science Fridays with Miss Chantelle: 2:00 PM
Join the ACPL Imagine Your Story Facebook group to watch Chantelle demonstrate a science project you can do at home. Videos will be posted each Friday at 2:00 pm but can be watched at your convenience.
Downtown Farmers Market: 3:00–7:00 PM
Stop by our booth at the Laramie Downtown Farmers Market at the Depot Park