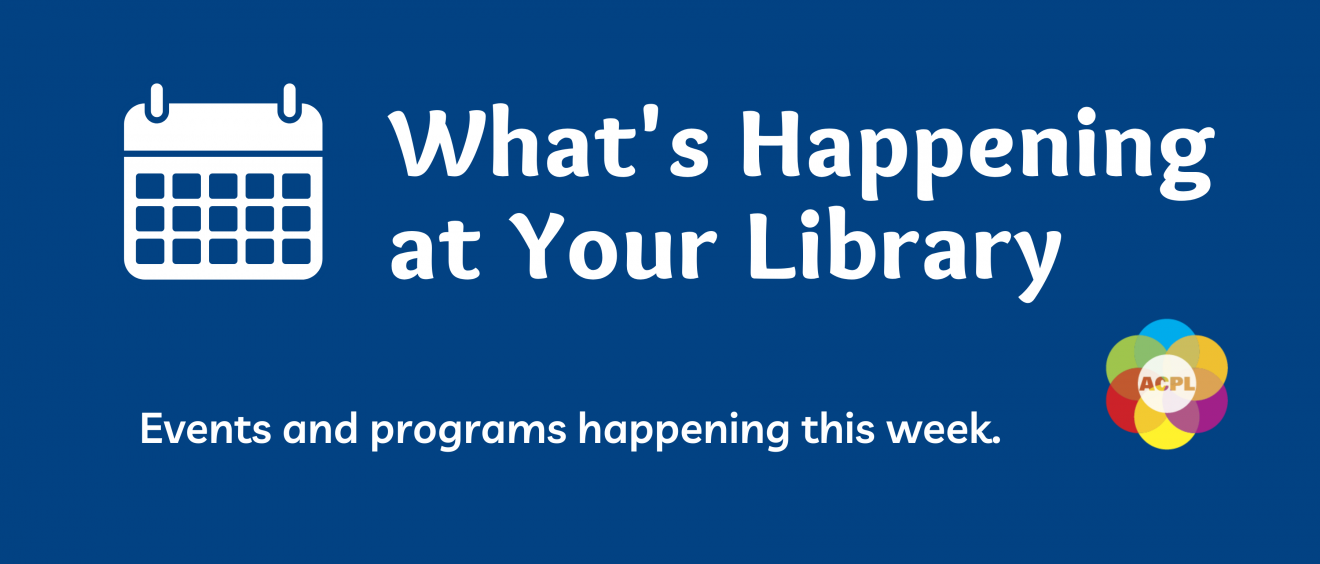 What's Happening at Your Library: Week of August 9–15
Check our Events Calendar for future events and updates. 
Ongoing:
StoryWalk® 
An outdoor reading experience for kids and families! Start at the front of the library to find the first sign, then head toward Grand Avenue and around the block to read the whole story.
Monday, August 10
Indian Paintbrush Book Talk: 2:00 PM
We will be posting on our Summer Reading Facebook group a new prerecorded Indian Paintbrush Book Talk every Monday at 2:00 PM to enjoy at your convenience. We'll do a short summary of the book and read a chapter or two.
Summer RPG: Bedlam Hall: 6:30 PM
Join us for a unique tabletop role-playing game. Contact Tyler at tbrown@acplwy.org for information or to join.
Tuesday, August 11
Game Night! ACPL Game Bazaar Online: 7:00 PM 
Families and individuals of all ages, join us for our weekly game night on our Discord server and discover ways to play tabletop games online through various platforms. Join us at https://discord.gg/ET7pStp and join the conversation. Email tbrown@acplwy.org if you have any questions.
Pajama Storytime: 7:00 PM
Put on your PJs, grab your favorite stuffie and join us on our ACPL Imagine Your Story Facebook Group for Pajama Storytime with Miss Monica.
If you haven't joined our private Facebook group yet, you can do so here: https://www.facebook.com/groups/acplimagineyourstory
Wednesday, August 12
Pirates & Mermaids Zoom Program: 10:30 AM
Ahoy! Get ready for a high seas adventure that sails through all things pirate and mermaid. Treasure hunts, crafts, and fun will abound, Mateys! Zoom meeting information will be provided upon completing the form. You will also receive a reminder email before the event. Be sure to pick up your Program Activity kits before the event!
Reservations can be made here:   https://forms.gle/FpvCDWfZPXrActESA
Thursday, August 13
Teen Take-Home Activity Kits available for pickup
Each week we will be featuring a different activity aimed at teens that can be completed at home. Kits with materials will be available at the library during our Grab & Go hours: Tuesday, Thursday, and Saturday 10 AM–2 PM. We will be putting out a new kit every Thursday! 
You can also follow along at home by visiting: https://www.acplwy.org/teens/at-home-activities-for-teens
Stories in the Garden: 10:00 AM
We will be posting on our Summer Reading Facebook group a new prerecorded Family Storytime every Thursday at 10:00 AM to enjoy at your convenience. There will be stories, songs, and lots of fun.
Murder Club: 7:00 PM
Murder Club is meeting in various locations until further notice! For more information or if you would like to join us email Cassy at chunter@acplwy.org. 
A book club for fans of Serial, My Favorite Murder, and Forensic Files – each month we'll delve into infamous murders, serial killers, and other true crime topics. This month we are reading: Alice & Gerald: A Homicidal Love Story by, Ron Franscell
Friday, August 14
Science Fridays with Miss Chantelle: 2:00 PM
Join the ACPL Imagine Your Story Facebook group to watch Chantelle demonstrate a science project you can do at home. Videos will be posted each Friday at 2:00 pm but can be watched at your convenience.
Downtown Farmers Market: 3:00–7:00 PM
Stop by our booth at the Laramie Downtown Farmers Market at the Depot Park