What's Happening at Your Library: Week of June 14–20
Check our Events Calendar for future events and updates. 
Ongoing:
StoryWalk® 
An outdoor reading experience for kids and families! Start at the front of the library to find the first sign, then head toward Grand Avenue and around the block to read the whole story. Check back on Wednesday for a new book!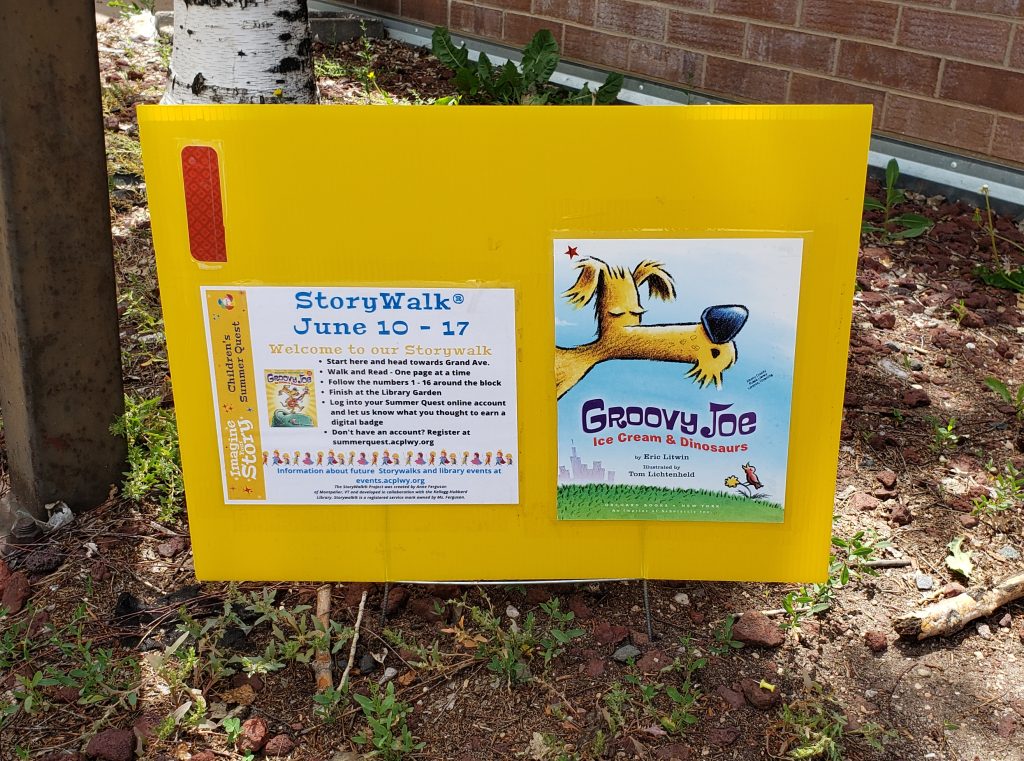 Rewrite a Fairy Tale Competition for Teens 
Calling all teens from 6th–12th grade: Submit a rewritten or fresh take on a traditional folk tale, fairy tale, or myth. Please submit your stories by June 30th. Winners will have the opportunity to have their story published on our blog and win a prize! 
For more information go here: https://www.acplwy.org/rewrite-a-fairytale-competition
Submit your story here: https://forms.gle/Che1PJYys59T3Aqz9
Monday, June 15th
Summer RPG: The Warren: 6:30 PM
Join us for some tabletop roleplaying games. Fill out this quick poll join us for a summer of Role-playing Games! 
https://docs.google.com/forms/d/e/1FAIpQLSchm7sKIMXFpKYuYfUpu2wvVVK9FSYLHKjmxS945_uCeN6WKA/viewform?usp=sf_link
For questions please contact Tyler at tbrown@acplwy.org
Tuesday, June 9th
QuaranTEEN Hangout
Teens 12-18: Chat, hang out, and play games with us weekly on Tuesdays from 3:30-5:00
Sign up here to get the zoom link!
Game Night! ACPL Game Bazaar Online: 7:00 PM 
Families and individuals of all ages, join us for our weekly game night on our Discord server and discover ways to play tabletop games online through various platforms. Join us at https://discord.gg/ET7pStp and join the conversation. Email tbrown@acplwy.org if you have any questions.
Wednesday, June 10th
Fee Fi Fo Fum: 10:30 AM & 1:00 PM
This Wednesday's Children's "Imagine Your Story" Summer Quest Event will be gigantic. We'll be sharing all things Jack and the Beanstalk, including planting our very own magic beans!
Reservations can be made by RSVP-ing on our Facebook event page or by emailing mowens@acplwy.org. Pick up an activity kit to follow along during our Grab & Go hours.
Thursday, June 11th
Teen Take-Home Activity Kits available for pickup: Bead Keychain
Pick up a keychain craft kit today, until supplies run out! Each week we will be featuring a different activity aimed at teens that can be completed at home. Kits with materials will be available at the library during our Grab & Go hours: Tuesday, Thursday, and Saturday 10 AM–2 PM. We will be putting out a new kit every Thursday! 
You can also follow along at home by visiting: https://www.acplwy.org/teens/at-home-activities-for-teens
Stories in the Garden: 10:00 AM
We will be posting on our Summer Reading Facebook group a new prerecorded Family Storytime every Thursday at 10:00 AM to enjoy at your convenience. There will be stories, songs, and lots of fun.
Indian Paintbrush Book Talk: 11 AM
We will be posting on our Facebook group a new prerecorded Indian Paintbrush Book Talk every Thursday at 11:00 AM to enjoy at your convenience. We'll do a short summary of the book and read a chapter or two. This week we will read Bob by Wendy Mass & Rebecca Stead.