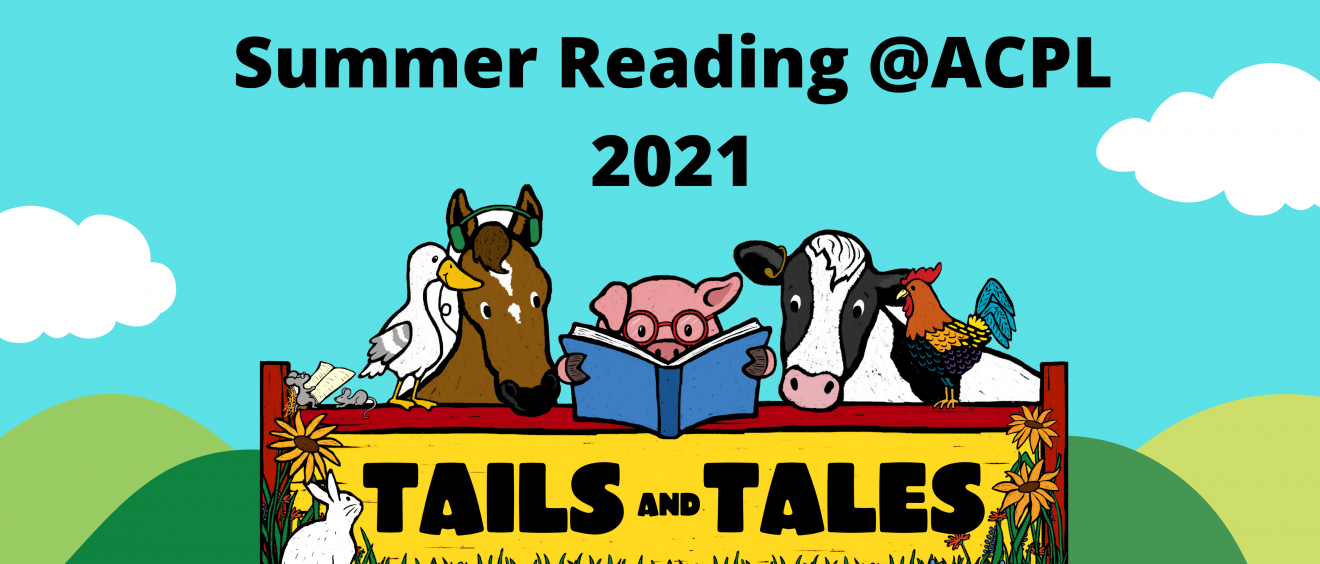 Summer Reading 2021: Tails and Tales
Summer is just around the corner! The Albany County Public Library is excited to bring you 3+ months of fun and learning with reading challenges, a scavenger hunt, and more. Animal lovers of all ages can celebrate our theme this year: Tails and Tales. 
Visit summer.acplwy.org for updates and more!
Summer Scavenger Hunt
If you're looking for fun things to do this summer, join our Summer Scavenger Hunt! Complete missions at home and around Laramie to earn points. 

To join, download the GooseChase app and search for ACPL Summer Scavenger Hunt or enter code M4MJJZ. You can join a team with your friends or family, or compete individually.
You don't have to complete every mission; pick ones that interest you. Teams or individuals that reach 1000 points will earn a place on our Wall of Fame. We will post new missions on Fridays, so check back often for more ways to earn points. 
A huge thank you to UniWyo for making this possible!
Summer Reading Challenges
Like in previous years, we are challenging readers of all ages to step up their reading this summer. We have reading challenges for Kids, Teens, and Adults that will start June 25th and wrap up on August 26th. 
You can track your minutes read online through READsquared or on the READsquared app. Kids and Teens can pick up a paper log at the library if they prefer tracking their reading that way before entering their time into READsquared. 
Once you read 150 minutes, you will earn a badge through READsquared. For each badge you get, you will earn one vote towards an animal charity that you would like us to support. Kids and Teens will also earn a pin-back button that they can pick up at the library for each badge they earn.
At the end of the summer, we will donate to the charities in proportion to the votes each one receives. Go all-in on your favorite charity, or vote for each of them! We are also encouraging you to donate food and items to each of our charities. Visit the library to learn more about what items each charity needs. 
Stories @ the Parks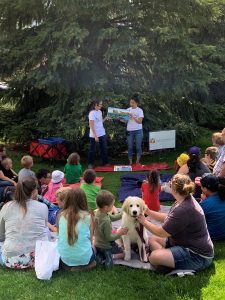 Stories @ the Parks is back! Join us every Tuesday and Wednesday, rain or shine, for a free storytime for kids! Stories @ the Parks will start on June 29th and go through August 31st.
Tuesdays at 10 a.m.: Library Garden (South of the building between the two side parking lots)

Tuesdays at 2 p.m.: Library Garden

Wednesdays at 10 a.m: Washington Park (near the playground)

Wednesdays at 12:15 p.m: LaBonte Park (between the east playground and Feeding Laramie Valley)
Downtown Laramie Farmer's Market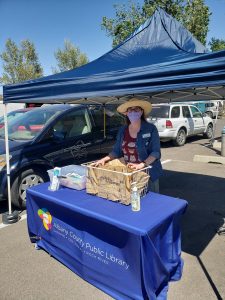 We will be back at the Farmer's Market this year better than ever! The LaramieFarmer's market is located at Depot Park starting June 25th through September 24th from 3 p.m. to 7 p.m.
Stop by our booth, play with our lawn games, and more! Our booth will be right by the playground.