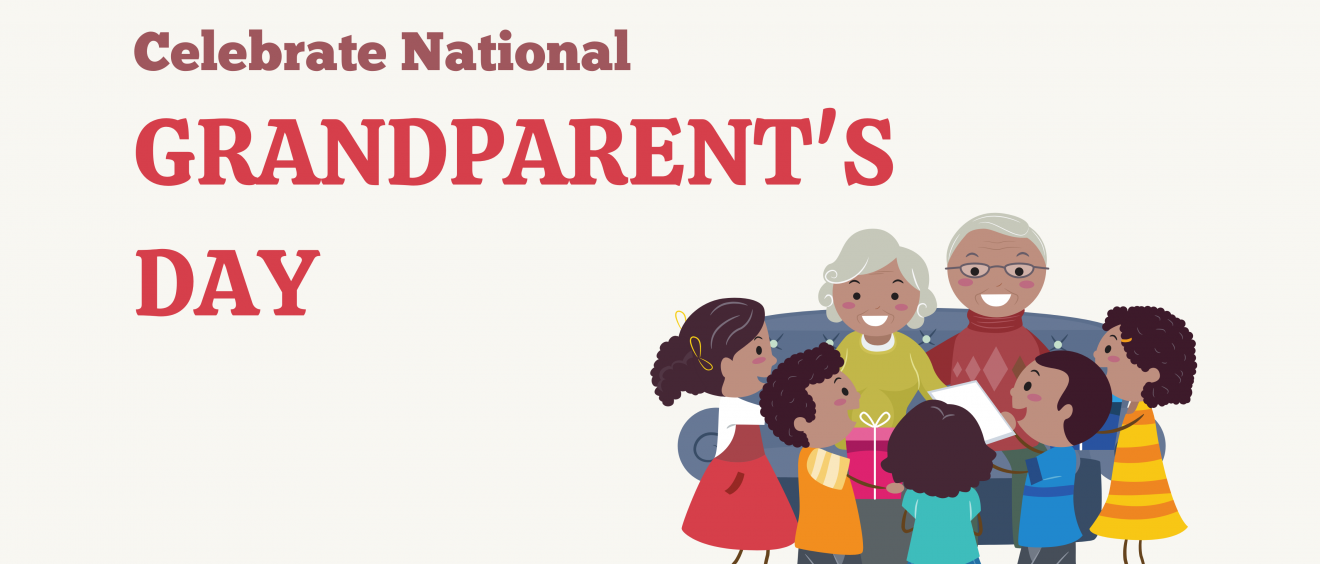 Read These Great Books for National Grandparents Day
September 12 is National Grandparents day! Celebrate by checking out these books about grandparents. And don't forget to take a moment to appreciate your grandparents and to let them know how much they mean to you!
Picture Books
Last Stop on Market Street by Matt de la Peña, illustrated by Christian Robinson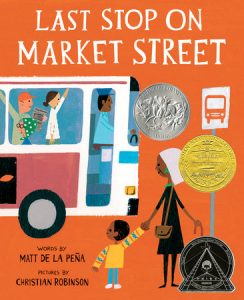 Link to this book in the library catalog
No list of picture books about grandparents is complete without this modern classic. 
On Sundays, CJ and his nana ride the bus across town to their stop on Market Street. But today, CJ's not happy about it. Today, he's wondering out loud why they have to wait in the rain and why they don't have a car like his other friends. But it's Nana who opens young CJ's eyes and shows him the real beauty in the world around them – the spirit of the bustling city, the music in everyday life, and the magic of their often overlooked neighbors.
Grandpa's Tractor by Michael Garland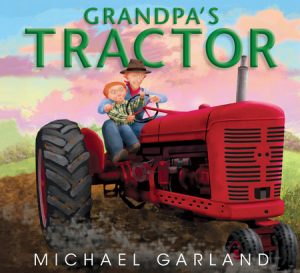 Link to this book in the library catalog
Grandpa Joe takes his grandson Timmy back to the site of his family's farm, where the old house and a ramshackle barn still stand. The visit stirs up memories for Grandpa Joe–in particular, the majesty of his own father's shiny red tractor, now rusting in the forgotten fields.
The Matatu by Eric Walters, illustrated by Eva Campbell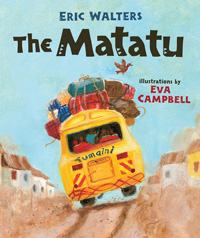 Link to this book in the library catalog
Kioko had been watching the matatus come and go for as long as he could remember. But today, for his fifth birthday, he climbs aboard one with his grandfather. As the matatu pulls away from the market, the village dogs chase after them. When Kioko asks his grandfather why the dogs always bark and chase after matatus, his grandfather tells him an entertaining tale about a dog, a goat and a sheep.
The Hello, Goodbye Window by Norton Juster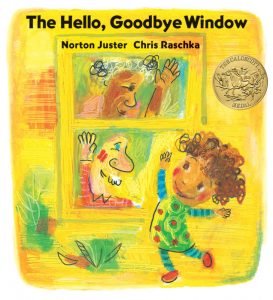 Link to this book in the library catalog

The kitchen window at Nanna and Poppy's house is, for one little girl, a magic gateway. Everything important happens near it, through it, or beyond it. 
The Key to Grandpa's house by Christina Ortega, illustrated by Luis Armando Ortega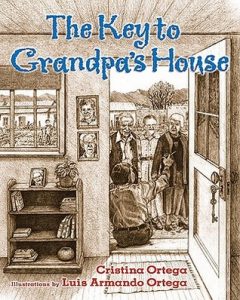 Link to this book in the library catalog

Under a smooth gray rock on the outside windowsill of a home in Chimayo, New Mexico, sits la llave–the key–to the home of Grandpa and Grandma Ortega. The key has always been there for family, friends, and neighbors to use.
When Grandma Ortega passes away, some things change and some things stay the same. Grandpa now lives alone, but his life is still filled with loving family and friends and la llave is still resting underneath its rock.
The Castle on Hester Street by Linda Heller, illustrated by Boris Kilkov
Link to this book in the library catalog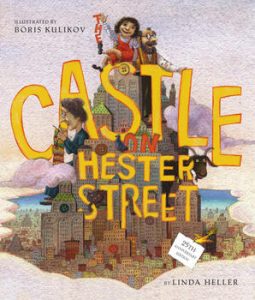 A flying goat, buttons the size of sleds, and a castle on Hester Street are some of the widely imaginative stories Julie's grandpa tells her about his journey from Russia to New York many years ago. But Grandma's no-nonsense memories are far different from Grandpa's tall tales.
We Became Jaguars by Dave Eggers, illustrated by Woodrow White
Link to this book in the library catalog
When Grandma comes to visit and a young boy's parents leave, the rules of the house–and the world–change: grandson and grandmother transform into jaguars! Readers follow their journey into the undiscovered world of nature, experience true freedom, and lose themselves in an exhilarating adventure
Chapter Books
Dracula vs. Grampa at the Monster Truck Spectacular by Kirk Scroggs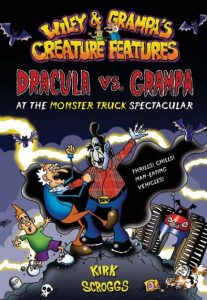 Link to this book in the library catalog 
When Grampa and Wiley sneak out of the house on a stormy Halloween night to attend Colonel Dracula's Monster Truck Spectacular, they run into trouble from which only Gramma and an F5 tornado can save them.
Merci Suárez Changes Gears by Meg Medina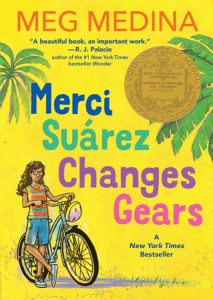 Link to this book in the library catalog
This coming-of-age story follows Merci Suárez as she enters the sixth grade and her relationship with her Abuelo Lolo. Lately, however, Lolo has been acting strangely, becoming more forgetful and angry. Mercy Suárez Changes Gears follows Merci through her difficult school life, and her changing home life. 
When You Trap a Tiger by Tae Keller 
Link to this book in the library catalog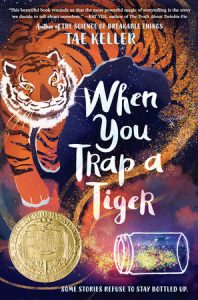 When Lily and her family move in with her sick grandmother, a magical tiger straight out of her halmoni's Korean folktales arrives. The tiger offers Lily a deal- if Lily will open her grandmother's star jars and return what she stole, the tiger will heal her grandmother. But deals with tigers are never what they seem! 
Just Like Jackie by Lindsey Stoddard
Link to this book in the library catalog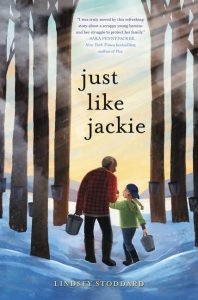 For as long as Robinson Hart can remember, it's just been her and Grandpa. He taught her about cars, baseball, and everything else worth knowing. But Grandpa's memory has been getting bad–so bad that he sometimes can't even remember Robbie's name.
Gone Crazy in Alabama by Rita Williams-Garcia
Link to this book in the library catalog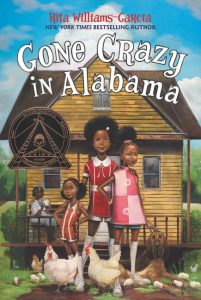 Delphine, Vonetta, and Fern are off to Alabama to visit their grandmother Big Ma and her mother, Ma Charles. Across the way lives Ma Charles's half-sister, Miss Trotter. The two half-sisters haven't spoken in years. As Delphine hears about her family history, she uncovers the surprising truth that's been keeping the sisters apart. But when tragedy strikes, Delphine discovers that the bonds of family run deeper than she ever knew possible.