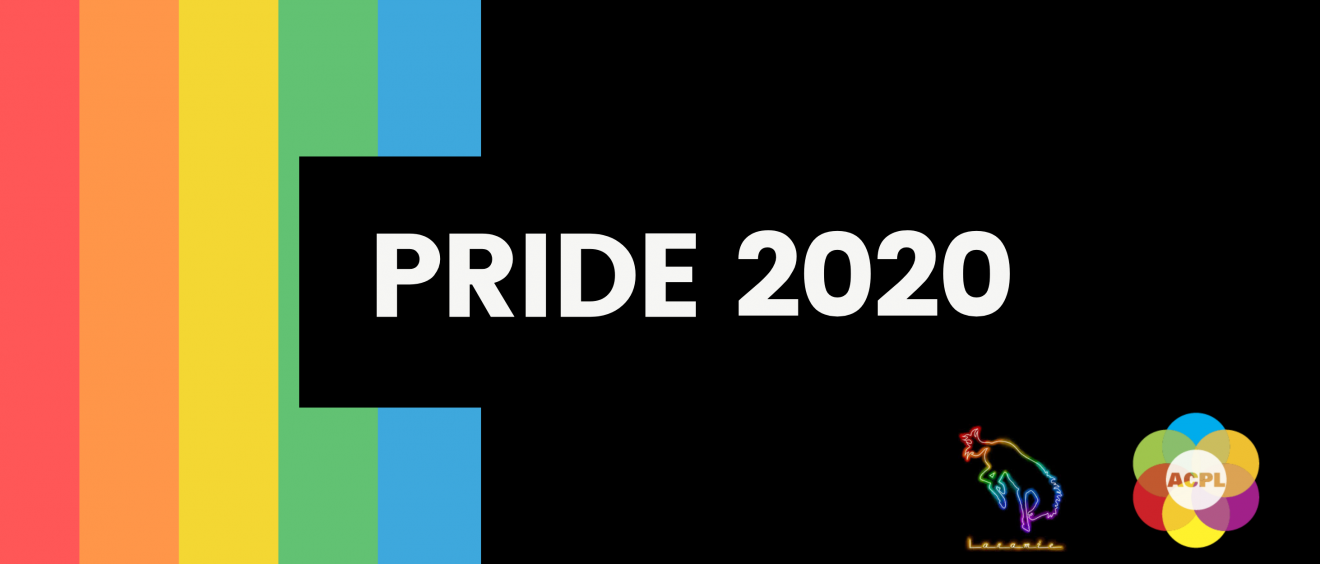 Pride 2020
June is Pride Month! Pride Month honors the 1969 Stonewall Riots and is a time of celebration and support for the LGBTQ+ Community. This year will mark the fourth annual Laramie PrideFest which is being held from June 22–28. Due to concerns regarding COVID-19, this year's pridefest will consist of virtual events. 
As part of these events, PrideFest has partnered with the Albany County Public Library to hold a virtual Pride Story Hour. We are so excited and grateful to get to work with Laramie PrideFest yet again to bring a fun and colorful story hour to our library!
Make sure to join us Wednesday, June 24th at 6:30 on the Albany County Public Library's Facebook page for this fun storytime!
I wanted to know more about Laramie PrideFest and what it would look like during a time of social distancing, so I got in touch with Mel, a PrideFest board member and asked them a few questions. Here is what they had to say:
What are your favorite aspects or events of Laramie PrideFest?
Laramie PrideFest's mission is to celebrate, honor, and support Wyoming's LGBTQ+ community. I think that those three goals resonate with people differently based on their values. My personal values are most in line with the support aspect, so I really appreciate the opportunity to do outreach and connect people to their local resources. In the past, I've had the most fun at Pride in the Park, because it's incredibly rewarding for me to get to be surrounded by people making those connections and acting together in support of the local LGBTQ+ community. 

How is PrideFest different this year compared to previous years?
We're virtual! In previous years, PrideFest has focused on in-person events like drag and burlesque shows, the Pride March and Pride in the Park festival, the Matthew Shepard Vigil, and an annual dance. With this year's concerns about COVID-19 transmission, especially to vulnerable populations like immunocompromised folx, we've intentionally moved our events online and postponed the Matthew Shepard Vigil.

You can find our schedule of online events—like Live at the Chick Coop, Cooking with Queers, and our Tales at the Taphouse collaboration—on our Facebook page, here: https://www.facebook.com/LaramiePrideFest/

The Albany County Public Library is partnering with Laramie PrideFest to have a Pride Story Hour during PrideFest week. Why did you choose to include a story hour as one of your events this week?
Pride Story Hour is our take on Drag Queen Story Hour, which started as a way to give children an opportunity to meet queer role models. Research tells us that positive representation makes a huge difference to the development of self-esteem in children, and that exposure to positive role models also challenges bigotry. All children deserve to see themselves reflected positively in the world, and we hope that Pride Story Hour can offer that to the community that the Albany County Public Library serves.

What role do you see the library playing in PrideFest and the LGBTQ+ community at large?
The Albany County Public Library has been a reliable supporter of Laramie PrideFest and the LGBTQ+ community. On a very practical level, moving to a virtual format for 2020 PrideFest meant that we had a struggle to figure out what content was distributable based on copyright laws and temporary permissions. The library was a tremendous asset to navigating these complicated questions. LGBTQ+ folx frequently have to navigate complicated questions with potentially life-changing outcomes, and libraries are in a unique position to make free and low-cost support available to underserved communities like ours.

What are ways that libraries can serve the LGBTQ+ community and LGBTQ+ patrons?
Neil Gaiman has a beautiful article about why libraries are important. In it, he says that "a library is a place that is a repository of information and gives every citizen equal access to it. That includes health information. And mental health information. It's a community space. It's a place of safety, a haven from the world." I think that in order to serve the LGBTQ+ community, libraries need to do what they already do: offer a place where LGBTQ+ folx can exist free of judgment and access information that can save our lives.
Mel also shared a great list of books you can read during pride month. Here are some of Mel's recommendations, as well as some of my top picks from our collection:
All the Birds in the Sky by Charlie Jane Anders
Giovanni's Room by James Baldwin
Grease Bats by Archie Bongiovanni
Gender Outlaw by Kate Bornstein
The House of Impossible Beauties by Joseph Cassara
Little and Lion by Brandy Colbert
I Wish You All the Best by Mason Deaver
Asegi Stories: Cherokee Queer and Two-Spirit Memory by Qwo-Li Driskill 
This is How You Lose the Time War by Amal El-Mohtar and Max Gladstone
If You Could be Mine by Sara Farizan
For Today I Am a Boy by Kim Fu
Speak No Evil by Iweala, Uzodinma
Our Dreams at Dusk by Yuhki Kamatami 
The Love and Lies of Rukhsana Ali by Sabina Khan
Before I Had the Words by Skylar Kergil
Darius the Great is Not Okay by Adib Khorram
The Importance of Being Wilde at Heart by R. Zamora Linmark 
Her Body and Other Parties by Carmen Maria Machado
A Dream So Dark by LL McKinney
Redefining Realness by Janet Mock
Continental Divide by Alex Myers
Black Deutschland by Darryl Pinckney
The Moon Within by Aida Salazar
Don't Call us Dead by Danez Smith
The Empress of Salt and Fortune by Nghi Vo
On Earth We're Briefly Gorgeous by Ocean Vuong
The Prince and the Dressmaker by Jen Wang
Running With Lions by Julian Winters
Frankissstein by Jeannette Winterson