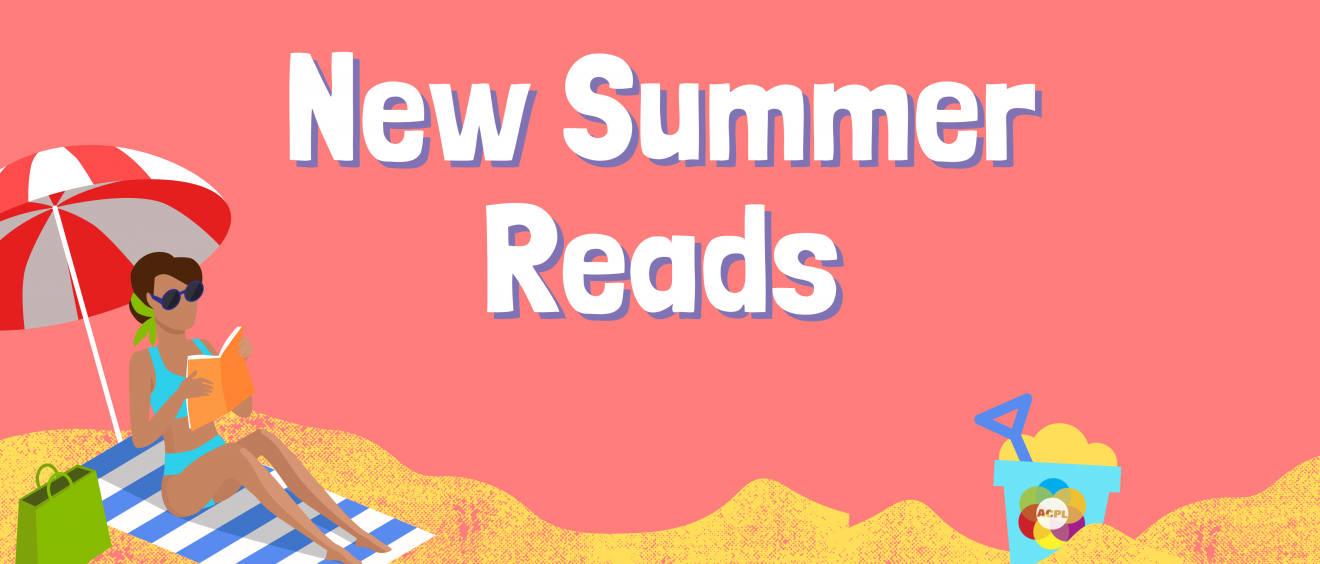 New Summer Must Reads @ ACPL
Now that Summer has finally arrived, it's time to start on your summer reading list. Here are three new books from our collection that we recommend. 
The Mercies by Kiran Millwood Hargave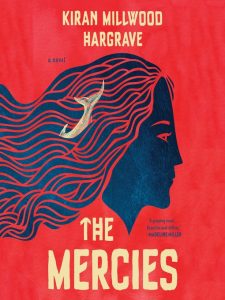 The Mercies follows the story of Maren, who lives in a small fishing village in 1617. Set off the coast of Norway in Vardø, Maren watches in horror as her father, fiance, and brother perish in a violent storm, along with the entire male population of their village. The women of the village react differently to this tragedy. Some of the women turning away from their biblical beliefs and instead use pagan and occult items to comfort them As Maren and the other women of the island mourn for their loss, the forces of nature quickly descend on them.
With no form of relief, but themselves, the women begin to take over the work their husbands once did. Soon after that, a new commissioner arrives in Vardø with his wife. The new commissioner is somewhat infamous for burning women at the state, who he believed were witches. Viewing the women as ungodly and the island as being under the devil's control, the commissioner begins to accuse the women of witchcraft. Ursa, his wife, fears him and becomes inspired by the women and their independence. Maren and Ursa quickly strike up a friendship that slowly progresses into something more, which surprises both women. Slowly the story unfolds and the two women are forced closer and closer together. 
Based on the witch trials of 1617 in Sweden, the historical setting adds an additional level of intrigue to the story. Believed to be a simple legend, the trial was later confirmed to have taken place. In a review written by Cathy Lanigan, they stated "The Mercies, by Kiran Hargrave, is an engaging story from history that will resonate with today's headlines about the abuse of authority in the pursuit of control." If you enjoy drama, romance, and a sprinkling of witchcraft, The Mercies is for you!
The Burning Girls by C. J. Tudor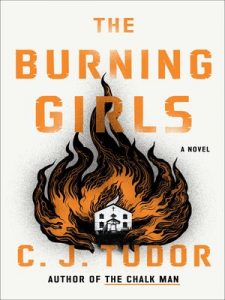 If you are looking for something a little more thrilling, check out The Burning Girls by C.J Tudor. Set in Chapel Croft, a town with a dark past and a bloody future, the story centers around Reverend Jack Brooks and his daughter Flo. Hoping to get a new start, Jack moves to Chapel Croft, but does not get the happy beginning he is looking for. Instead, Jack receives an exorcism kit with a note saying "But there is nothing covered up that will not be revealed and hidden that will not be known." Flo begins to see specters of girls on fire and is haunted by vengeful ghosts, seeking vengeance on those who wronged them. As Jack seeks answers, he finds that the little village has much to hide and that no one trusts an outsider. I can't give much away without spoiling the story, so this is one you'll definitely have to read if you want to know more.
Like so many great ghost stories before it, The Burning Girls will terrify you but won't let you put it down. Slowly letting the book unfold, Tudor leaves you in suspense as her characters search for answers. In a review written by the blog Crime by the Book they say "Written with C.J. Tudor's trademark razor-sharp plotting and sinister, atmospheric suspense, THE BURNING GIRLS is perhaps the author's most ambitious—and most haunting—story yet."
A Swim in a Pond in the Rain by George Saunders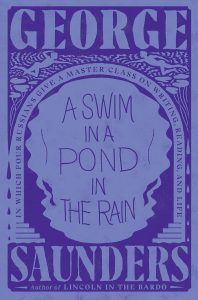 Interested in something a little reflective with a dash of Russian literature? A Swim in a Pond in the Rain is for you! Written by George Saunders, who has been teaching Russian lit for twenty years, A Swim in a Pond in the Rain covers a variety of short stories written by well-known Russian authors like Tolstoy, Checkov, and Gogol. As he breaks down each story, Saunders makes each work extremely accessible and explores why we read.
With the skill of someone teaching for a long time and a passion for their subject, A Swim in a Pond in the Rain guides you through each question with care and allows you to explore the simple act of reading. At the introduction Sauders writes this, "We're going to enter seven fastidiously constructed scale models of the world, made for a specific purpose that our time maybe doesn't fully endorse but that these writers accepted implicitly as the aim of art—namely, to ask the big questions, questions like, How are we supposed to be living down here? What were we put here to accomplish? What should we value? What is truth, anyway, and how might we recognize it?" 
If you are interested in something off the beaten path this is for you! In a review written by Gary Morson, they say " George Saunders deems his delightful readings of seven stories by Chekhov, Gogol, Turgenev and Tolstoy non-academic, and they are all the better for that.
Mr. Saunders, himself a distinguished author of short stories, knows that the work is not the text but the experience the text is designed to create for the attentive reader. He guides us through each story to show what such attention can reveal."
All of these books can be found in our library and through Overdrive!