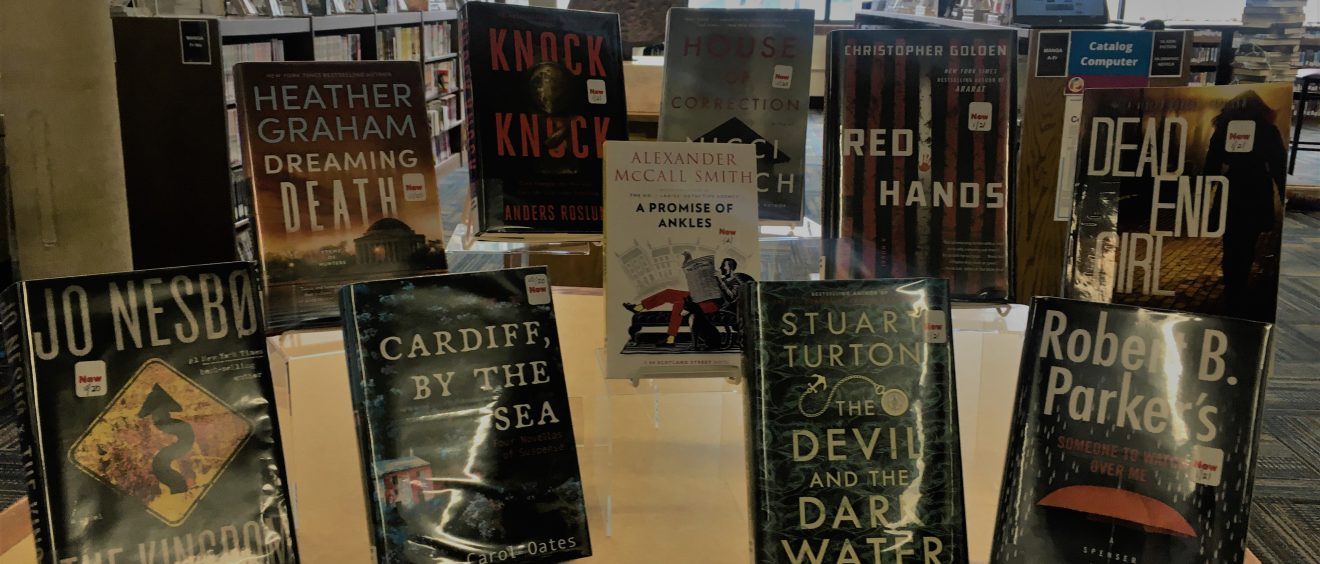 New Mystery Books February 2021
The Devil and the Dark Water by Stuart Turton
A murder on the high seas. A remarkable detective duo. A demon who may or may not exist. It's 1634 and Samuel Pipps, the world's greatest detective, is being transported to Amsterdam to be executed for a crime he may, or may not, have committed.
Put it on hold here https://bit.ly/3onDvEp or get the ebook from CloudLibrary here https://bit.ly/3a7n5eb or from Libby here https://bit.ly/3cf4cIQ
Listening options: Get the eAudiobook here https://bit.ly/2YiKuUs
A Promise of Ankles by Alexander McCall Smith
The latest, delectably witty installment of Alexander McCall Smith's sumptuous 44 Scotland Street series. For the residents of 44 Scotland Street, life in Edinburgh's intriguing New Town is a thing to be relished. After all, there are new faces to excite Domenica's anthropological imagination, precious moments with his triplets for Matthew to savor, and the prospect of a trip to the promised land of Glasgow for young Bertie. But there are mysteries that need solving too. Put it on hold here https://bit.ly/3qTDtFV or get the ebook here https://bit.ly/3qVe3HU
Robert B. Parker's Someone to Watch Over Me by Ace Atkins
In the latest thriller featuring the legendary Boston PI, Spenser and his young protégé Mattie Sullivan take on billionaire money manager running a network of underaged girls for his rich and powerful clients.
Put it on hold here https://bit.ly/2YjvmGk or get the ebook here https://bit.ly/36cL7n6
Listening options: Find the e-Audiobook here https://bit.ly/2KQFK5n
Dead End Girl by L.T. Varger and Tim McBain
Her body is broken. Wrapped in plastic. Dumped on the side of the road. She is the first. There will be more. A serial killer stalks women in rural Ohio. Put it on hold here https://bit.ly/3qRxZeQ
Cardiff by the Sea by Joyce Carol Oates
Joyce Carol Oates, the "grand mistress of ghoulishness," showcases her mastery in four deeply disturbing novellas that will leave the reader both quaking and pining for more. Put it on hold here https://bit.ly/2MpoZi8
The Kingdom by Jo Nesbo
Two brothers. One small town. A lifetime of dark secrets.A tense and atmospheric standalone thriller from best-selling author Jo Nesbø.Put it on hold here https://bit.ly/2NtAWnp or get the ebook here https://bit.ly/2YjuDoA
Listening options: Find the eAudiobook here  https://bit.ly/2YjFSNP
Knock Knock by Anders Roslund
Seventeen years ago, Criminal Inspector Ewert Grens was called to the scene of a brutal crime. A family had been murdered, and the only survivor – and witness – was the five-year-old daughter. The girl was placed in the witness protection program, and the case went cold, but years later, he learns that the apartment where the crime occurred is now the scene of a mysterious break-in, Grens immediately fears that someone is intent on silencing the only witness. He races to find her…before they do. Put the book on hold here https://bit.ly/2MsvEbu
Dreaming Death by Heather Graham
Ever since she was a child, Stacey Hanson has had strange dreams–and sometimes they come true. Her skills and experience led her straight to the FBI's Krewe of Hunters. Now a serial killer is stalking Washington, DC, and people are scared. And it will be Stacey's first case. Put it on hold here https://bit.ly/3a85DX6 or get the ebook here https://bit.ly/2YdUJJI
Red Hands by Christopher Golden
Sometimes a story is a warning. Sometimes the warning comes too late. When a mysterious and devastating bioweapon causes its victims to develop Red Hands, the touch of death, weird science expert Ben Walker is called to investigate. Put it on hold here https://bit.ly/2YdUJJI or get the ebook here https://bit.ly/3a6jrBl
House of Correction by Nicci French
Tabitha is accused of murder. She is in prison awaiting trial. There is a strong case against her, and she can't remember what happened on December 21st. She is alone, frightened and confused. But somehow, from the confines of her cell, she needs to prove everyone wrong. Put it on hold here https://bit.ly/3iSfYui or get the ebook here https://bit.ly/2YgP85t
Listening options: Find the eAudiobook here https://bit.ly/3iTkM2j