Thinking about adopting a new pet this season? Skip the mess and check out a new library book instead!
Our Circulation team has picked out some great new titles for you to read! Place the items on hold and pick them up from our Grab&Go cart.
Try our books with DOGS ON THE COVER: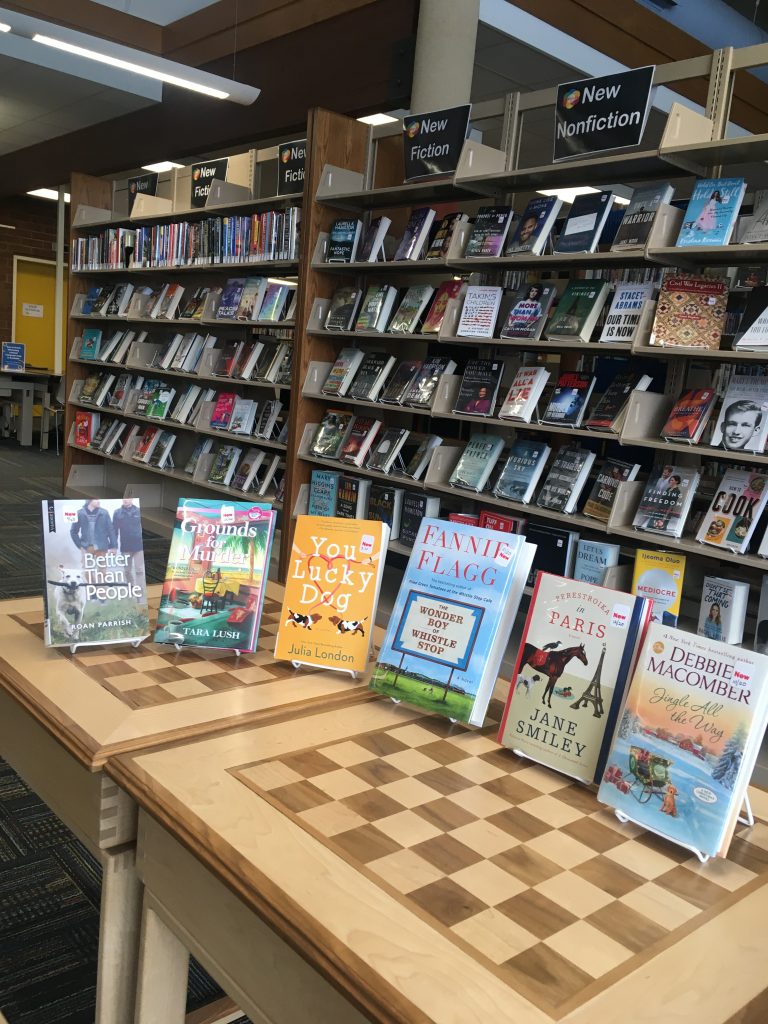 Jingle all the Way by Debbie Macomber
Forced to take December off,  Everly Lancaster's vengeful assistant books a guided cruise in the Amazon instead of the luxury beach vacation she expected, Everly is horrified to realize that she's about to spend the next two weeks trapped–with no Wi-Fi!–in the rain forest. 
Put it on hold here: https://bit.ly/3nuvxJZ
Or in Large Print here: https://bit.ly/3gXJpdd
Perestroika in Paris by Jane Smiley
From the Pulitzer Prize-winning and best-selling author, a captivating, brilliantly imaginative story of three extraordinary animals–and a young boy–whose lives intersect in Paris Paras, short for "Perestroika," is a spirited racehorse at a racetrack west of Paris. One afternoon at dusk, she finds the door of her stall open and–she's a curious filly–wanders all the way to the City of Light. 
Put it on hold here: https://bit.ly/3gXJDRB
Also available on CloudLibrary
The Wonder Boy of Whistle Stop by Fannie Flagg
Bud Threadgoode grew up in the bustling little railroad town of Whistle Stop with his mother, Ruth, church-going and proper, and his Aunt Idgie, the fun-loving hell-raiser. Together they ran the town's popular Whistle Stop Cafe, known far and wide for its fun and famous fried green tomatoes. And as Bud often said of his childhood to his daughter Ruthie, "How lucky can you get?"
Put it on hold here: https://bit.ly/3qZ8HMV
Also available on CloudLibrary and as an audiobook on OverDrive
You Lucky Dog by Julia London
Carly Kennedy's life is in a spiral. She is drowning in work, her divorced parents are going through their midlife crises, and somehow Carly's sister convinces her to foster Baxter–a basset hound rescue with a bad case of the blues. When Carly comes home late from work one day to discover that the dog walker has accidentally switched out Baxter for another perkier, friendlier basset hound, she has reached the end of her leash.
Put it on hold here: https://bit.ly/3r6AVVN
Grounds for Murder by Tara Lush
Barista Lana Lewis's sleuthing may land her in a latte trouble as Tara Lush launches her new Coffee Shop mysteries. When Lana Lewis' best — and most difficult — employee abruptly quits and goes to work for the competition just days before the Sunshine State Barista Championship, her café's chances of winning the contest are creamed. 
Put it on hold here: https://bit.ly/37pDIlp
Also available on CloudLibrary
Better than People by Roan Parish
It's not long before their pet-centric arrangement sparks a person-centric desire… Simon Burke has always preferred animals to people. When the countdown to adopting his own dog is unexpectedly put on hold, Simon turns to the PetShare app to find the fluffy TLC he's been missing. Meeting a grumpy children's book illustrator who needs a dog walker isn't easy for the man whose persistent anxiety has colored his whole life, but Jack Matheson's menagerie is just what Simon needs.
Put it on hold here: https://bit.ly/37maunk
For those with more refined tastes, try books with CATS ON THE COVER: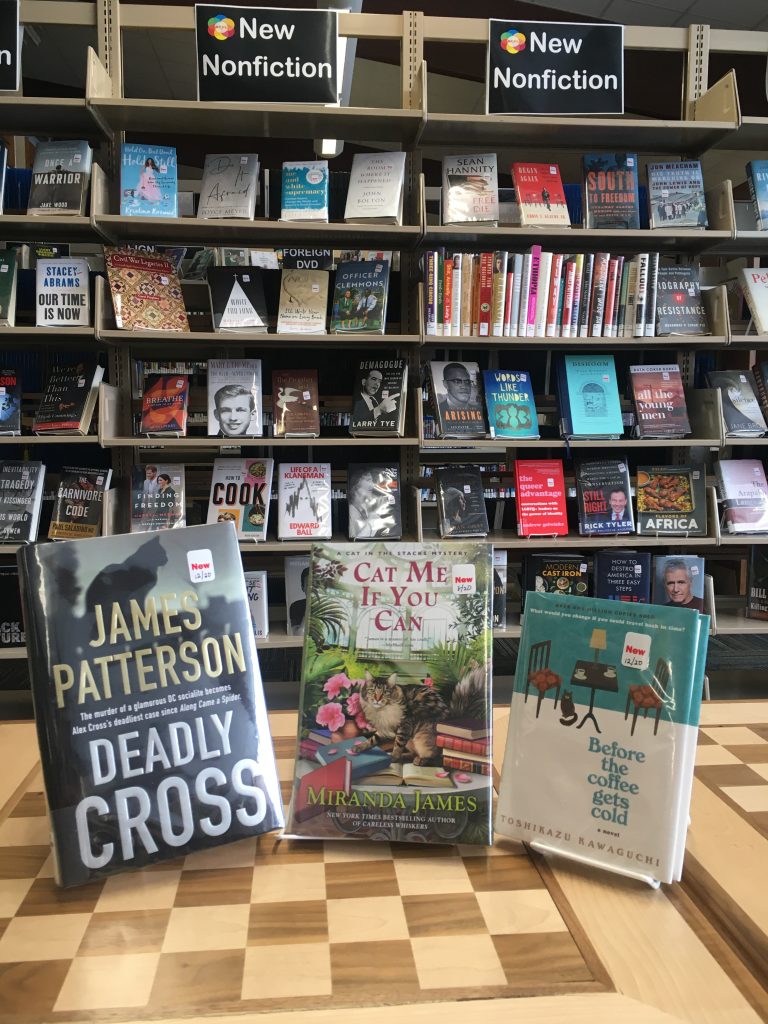 Before the coffee gets cold by Toshikazu Kawaguchi
In a small back alley of Tokyo, there is a café that has been serving carefully brewed coffee for more than one hundred years. Local legend says that this shop offers something else besides coffee–the chance to travel back in time. 
Put it on hold here: https://bit.ly/2KAE3Za
Cat Me if You Can by Miranda James
While Charlie is looking forward to relaxing and spending time with Helen Louise and Diesel, other members of the Athena Public Library mystery reader's club have ulterior motives. One of them has a long-standing score to settle, and soon a member of the group turns up dead. 
Put it on hold here: https://bit.ly/3nlAYLf
Also available on CloudLibrary
Deadly Cross by James Patterson
The murder of a glamorous DC socialite becomes Alex Cross's deadliest case since Along Came a Spider. Kay Willingham led a life as glamorous as it was public-she was a gorgeous Georgetown socialite, philanthropist, and the ex-wife of the vice president. So why was she parked in a Bentley convertible idling behind a DC private school, in the middle of the night, with the man who was the head of that school? Who shot them both, point blank, and why? 
Put it on hold here: https://bit.ly/3nspHZw
Also available on OverDrive and CloudLibrary