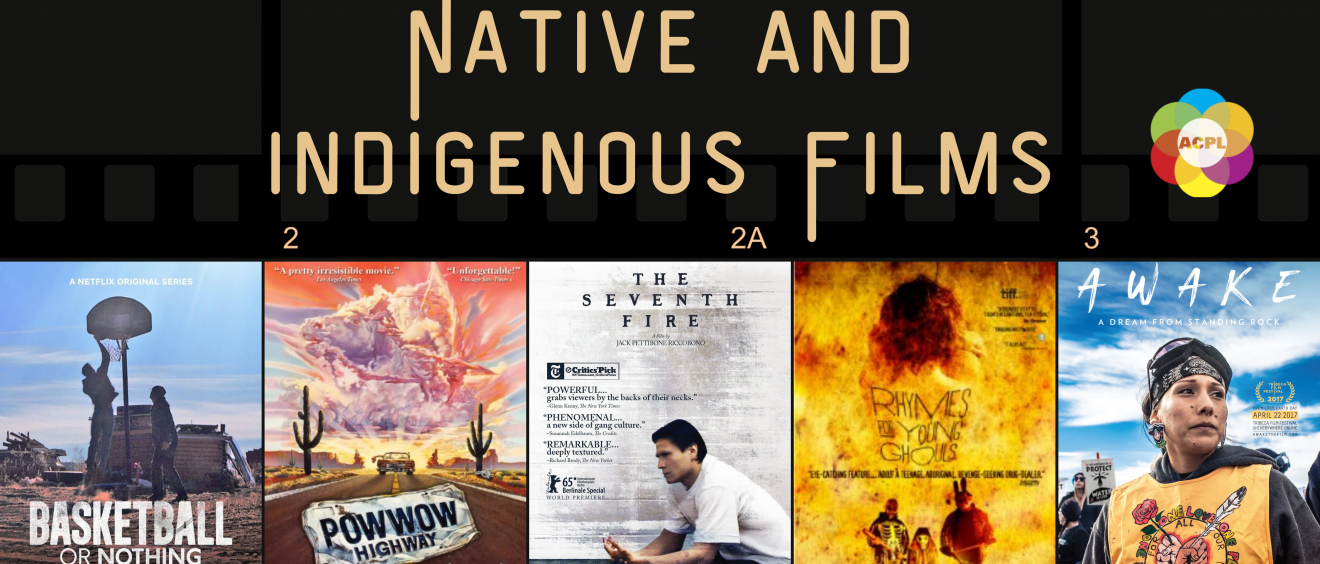 Native and Indigenous films to celebrate Native American Heritage Day
Once again, our resident movie expert, Tyler, has some great suggestions for films to celebrate Native American Heritage Day on November 27th. 
November is Native American Heritage Month, and I would like to present you with some amazing films from Native filmmakers that display the rich culture and powerful history of the Indigenous peoples of North America. 
Below you will find a number of recommended films that you can easily find here at ACPL, or online. I've also included a list of other significant and great films that are well worth your time, and a description of what exactly Native American Heritage Month is all about. Enjoy!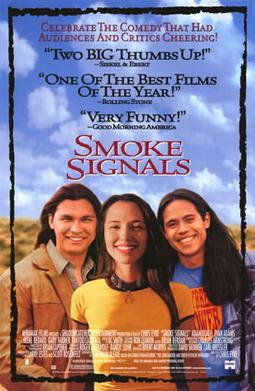 (Available at ACPL)
Smoke Signals, directed by Chris Eyre (1998)
Obviously you can't have a list like this without Smoke Signals. Based on the short story, "This is What it Means to Say Phoenix, Arizona,"  by Sherman Alexie, the story follows Victor, a young Coeur D'Alene man who travels with a friend to retrieve the body of his father who left his family years before. Aside from all it's accolades, it's also well known as the first film with a fully Native American cast and crew. It's humorous and never feels like it's trying to be anything but itself, which is incredibly refreshing for a film made by and about Native life in the modern world.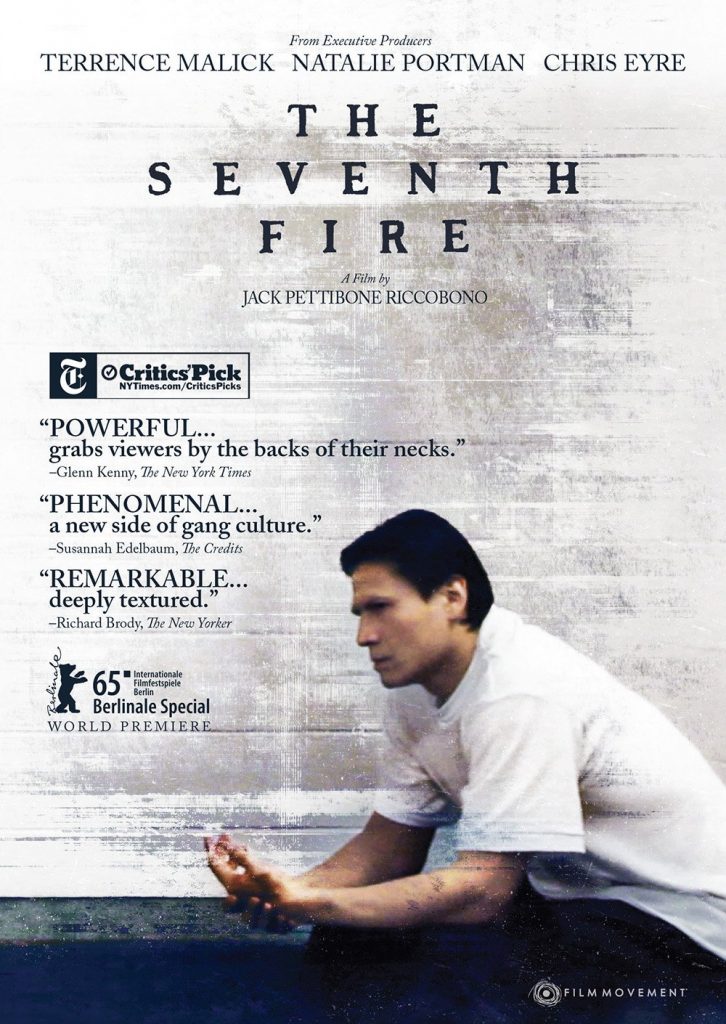 (Available at ACPL)
The Seventh Fire, directed by Jack Pettibone Riccobono (2015)
This harrowing documentary was filmed on and around Pine Point, a settlement on the White Earth Indian Reservation. It follows gang leader Rob Brown as he prepares to return to prison for a fifth time. As Rob confronts his hand in creating the violent and drug ridden land that surrounds him, he realizes the negative effects he's had on his culture—a culture he wishes to revitalize. The Anishinaabe prophecy of the Seven Fires serves as a backdrop speaking of the future of Native American life in North America. The film is quite haunting, but also incredibly moving.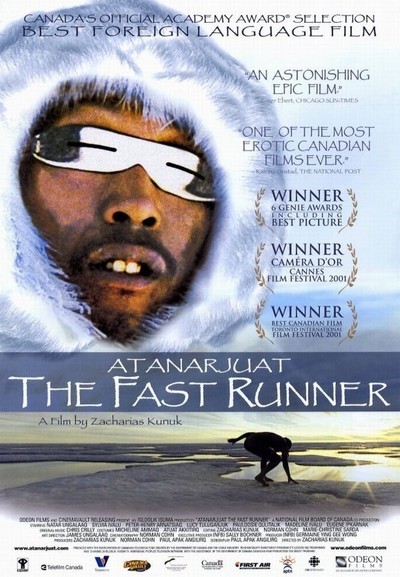 (Available at ACPL)
Atanarjuat, The Fast Runner, directed by Zacharias Kunuk (2001)
Filmed entirely in the Inuktitut language, this epic film made by and about the Inuit peoples, tells the story of a crime that shakes a small community living in the Canadian arctic. The film was written by collecting a series of oral versions of an Inuit legends from several elders and then turning them into a story. The story was also submitted to elders for suggestions,  making the film a collaboration of generations.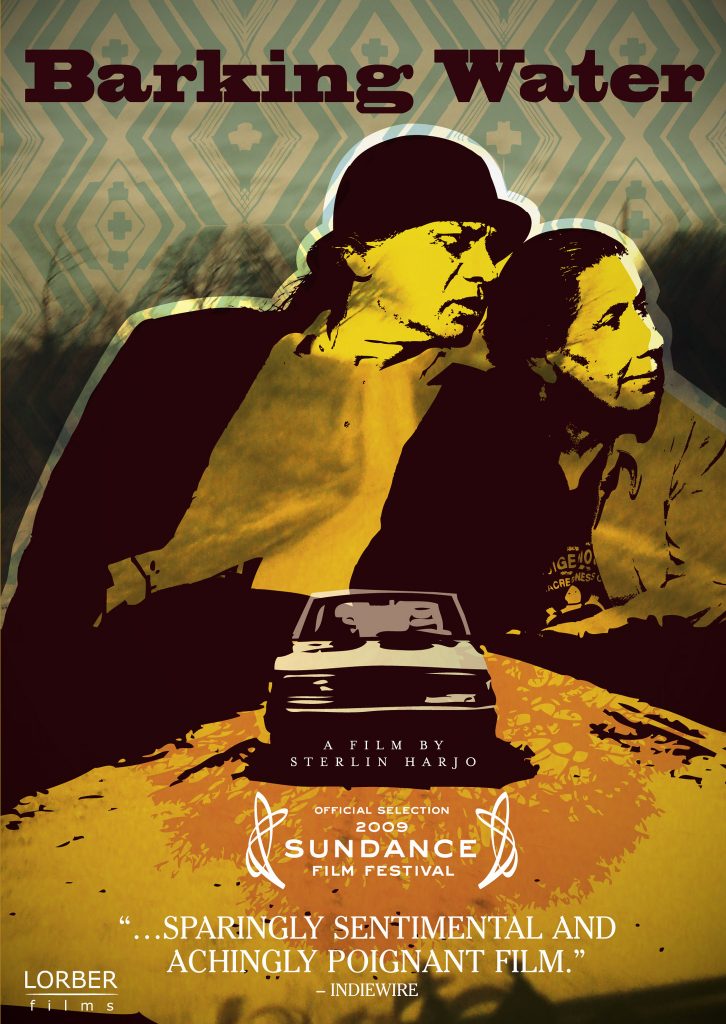 (Available at ACPL)
Barking Water
,
directed by Sterlin Harjo (2009)
This film is a nice, sweet, and quiet look at a dying man trying to make amends with his past. When Frankie is broken out of his hospital by his ex lover Irene, they begin a road trip across Oklahoma, to Wewoka, the capital of the Seminole nation. They meet a number of old friends and new acquaintances as Frankie searches to make amends with the family he's lost.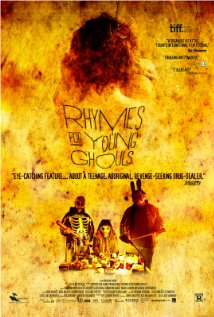 (Available at ACPL)
Rhymes for Young Ghouls, directed by Jeff Barnaby (2013)
A film on the edge of horror. It takes place in 1976, and is about a Mi'kMaq teenager who plots revenge against the sadistic Indian agent who imprisoned her in a residential school. The film takes a look at the history of abuse and aggressive assimilation of First Nations people in Canada.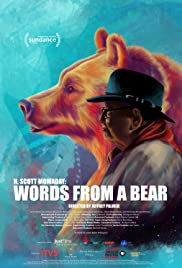 (Available at ACPL)
American Masters: N. Scott Momaday: Words from a Bear (2020)
N. Scott Momaday is an incredible human being. His writing has won him numerous awards, including a Pulitzer Prize for his novel, House Made of Dawn. This documentary is filled with interviews and candid moments with N. Scott Momaday and his passion and sense of humor are infectious as the documentary tells the story of his life. The world could use more voices and ideas like his. "For the storyteller, for the arrowmaker, language does indeed represent the only chance for survival."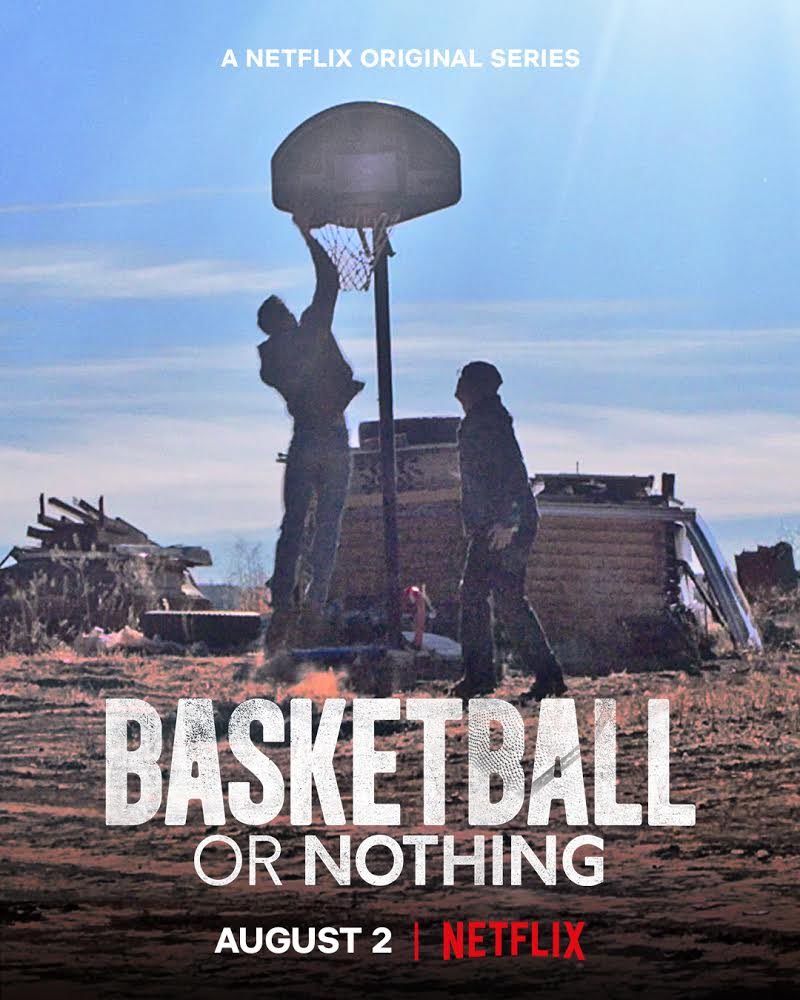 (Available on Netflix)
Basketball or Nothing (2019)
This recent Netflix series is a reality style documentary series about a group of high schoolers in Chinle Arizona, part of the Navajo Nation and within the largest Reservation of the US. It's a moving, yet simple look at the cultural touchstone of Rezball, the Native version of basketball with a more aggressive and forced tempo of play with a focus on scoring. Rezball has always been a way to focus a community to overcome and avoid the hardships of the world in which many Natives Americans live today.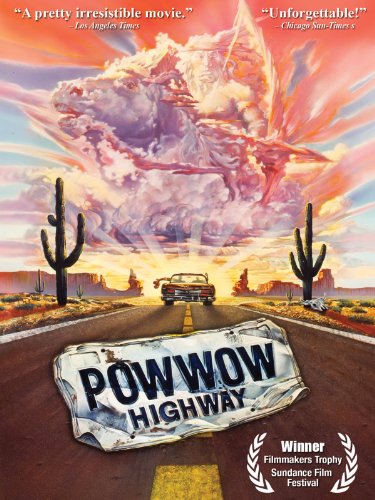 Powwow Highway, directed by Jonathan Wacks (1989)
If there was a classic Native American film, this would be it. Its influence clings to a number of Native films since its production in the late eighties—especially in films like Smoke Signals and Barking Water. It tells the story of Northern Cheyenne, Buddy Red Bow and his friend Philbert Bono (a man full of sacred visions) as they drive Bono's "War Pony," a rusted 1964 Buick WIldcat, to many locations including the Balck Hills, Pine Ridge Reservation, and even Gillette Wyoming. It's a hilarious movie with great performances, but sadly it's a bit hard to find nowadays.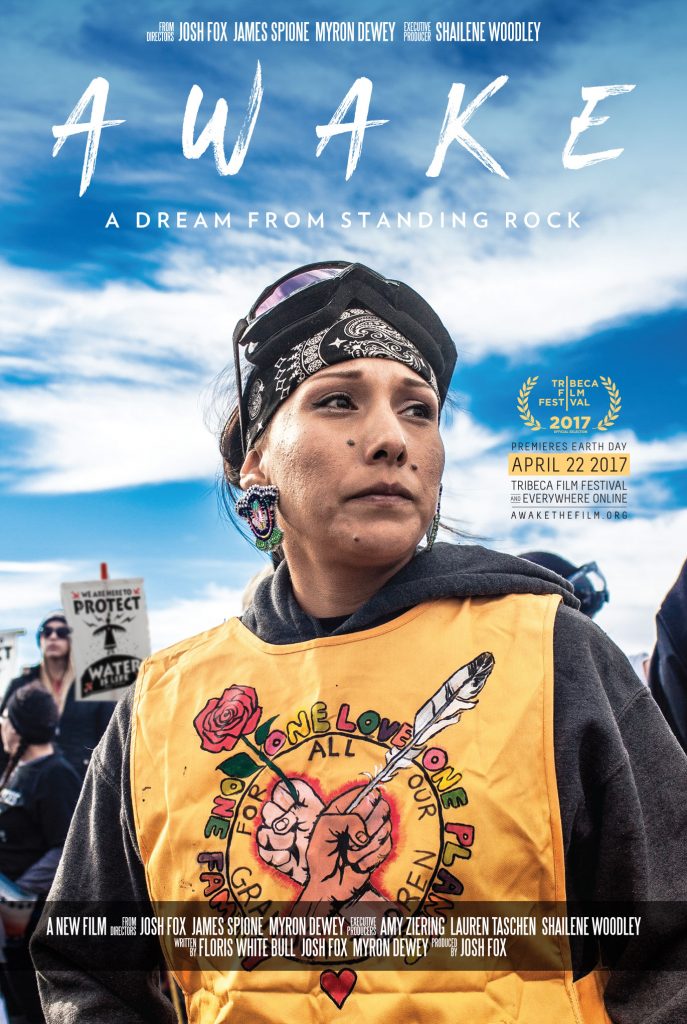 Awake: A Dream From Standing Rock, directed by Myron Dewey (2017)
This documentary depicts the historic #NODAPL, the Native-led peaceful resistance at the Standing Rock Sioux Reservation in North Dakota. The event captured the entire world's attention as ten thousands of activists traveled to North Dakota from all over the world to become "water protectors"  and oppose the Dakota Access Pipeline running beneath the Missouri River on sovereign Lakota land. Myron Dewey's representation of the events and people is riveting and inspiring. You can find options for viewing the film at http://awakethefilm.org/watch.php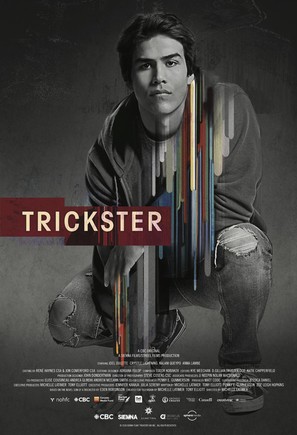 Trickster, directed by Michelle Latimer (2020)
One of the main difficulties in Native American and Indigenous stories is that sometimes there isn't a lot to bring viewers to the table who find little interest in the stories and culture of Indigenous people. Some creators like Jeff Barnaby with his films has slowly broken away from the tropes of Native American and Indigenous films by bringing horror into his work. This wonderful television show from Canada is aimed to do the same and bring in some supernatural fantasy. The story follows Jared, a young Haisla teenager who slowly begins to discover the supernatural magic that surrounds his world. Again, this is a bit hard to find in the US, but if you get a chance to binge the six episodes, it's well worth it. 
Other films available at ACPL:
Songs by Brother Taught Me, directed by Chloé Zhao (2015)
Bury My Heart at Wounded Knee, directed by Yves Simoneau (2007)
Business of Fancy Dancing, directed by Sherman Alexie (2002)
Incident at Oglala – The Leonard Peltier Story, directed by Michael Apted (1992)
We Shall Remain: America Through Native Eyes, directed by Chris Eyre (2009)
Winter in the Blood, directed by Alex and Andrew Smith (2013)
Drunktown's Finest, directed by Sydney Freeland (2014)
The Warrior Tradition, directed by Lawrence Hott (2019)
Indian Horse, directed by Stephen Campanelli (2017)
Other films available on Netflix:
The Body Remembers When the World Broke Open, directed by Elle-Maija Tailfeathers (2019)
There's Something in the Water, directed by Ellen Page (2019)
Other films to search for:
Skins, directed by Chris Eyre (2002)
Neither Wolf Nor Dog, directed by Stephen Lewis Simpson (2016)
On a Knife Edge, directed by Jeremy Williams (2017)
Trudell, directed by Heather Rae (2005)
We Were Children, directed by Tim Wolochatiuk (2012) 
This May be the Last Time, directed by Sterlin Harjo (2014)
In the Land of Head Hunters, Edward S. Curtis (2014)
Inconvenient Indian, directed by Michelle Latimer (2020)
More About Native American Heritage Month 
(from https://nativeamericanheritagemonth.gov/about/)
"What started at the turn of the century as an effort to gain a day of recognition for the significant contributions the first Americans made to the establishment and growth of the U.S., has resulted in a whole month being designated for that purpose.
One of the very proponents of an American Indian Day was Dr. Arthur C. Parker, a Seneca Indian, who was the director of the Museum of Arts and Science in Rochester, N.Y. He persuaded the Boy Scouts of America to set aside a day for the "First Americans" and for three years they adopted such a day. In 1915, the annual Congress of the American Indian Association meeting in Lawrence, Kans., formally approved a plan concerning American Indian Day. It directed its president, Rev. Sherman Coolidge, an Arapahoe, to call upon the country to observe such a day. Coolidge issued a proclamation on Sept. 28, 1915, which declared the second Saturday of each May as an American Indian Day and contained the first formal appeal for recognition of Indians as citizens.
The year before this proclamation was issued, Red Fox James, a Blackfoot Indian, rode horseback from state to state seeking approval for a day to honor Indians. On December 14, 1915, he presented the endorsements of 24 state governments at the White House. There is no record, however, of such a national day being proclaimed.
The first American Indian Day in a state was declared on the second Saturday in May 1916 by the governor of New York. Several states celebrate the fourth Friday in September. In Illinois, for example, legislators enacted such a day in 1919. Presently, several states have designated Columbus Day as Native American Day, but it continues to be a day we observe without any recognition as a national legal holiday.
In 1990 President George H. W. Bush approved a joint resolution designating November 1990 "National American Indian Heritage Month." Similar proclamations, under variants on the name (including "Native American Heritage Month" and "National American Indian and Alaska Native Heritage Month") have been issued each year since 1994."