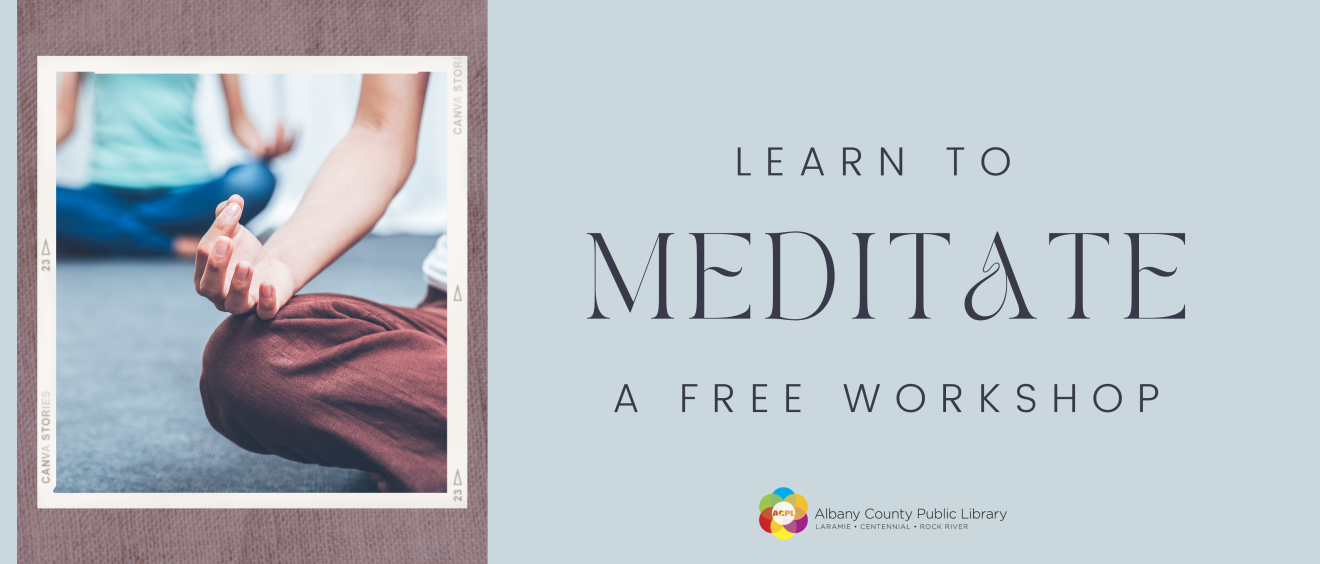 Free Meditation Workshop
Learn to Meditate Course 
This course describes mindfulness meditation and ways that meditation practice can improve the quality of our daily lives. By deepening our experience and understanding of ourselves through the practice of meditation, we become more fully aware of who we already are. 
Leslie Waggener has been a practitioner of mindfulness meditation for more than a decade; and has taught the practice at the University of Wyoming for the past four years. Leslie is currently enrolled in a 300-hour course through Engaged Mindfulness Institute to become a certified mindfulness instructor. 
This class will be limited to 20 participants. 
Participants are welcome to bring their own mat for mindful movement on Saturday and Sunday. Please bring a water bottle and "quiet" snacks (nothing crunchy; no nuts due to potential allergies by participants). The classroom will have chairs for participants and a few gomdens and zabutons participants can try out. 
Schedule: 
May 13-15, 2022
Friday: 5:30 to 7:30 pm 
Saturday: 10 am to 5 pm 
Sunday: 10 am to 12:30 pm 
Friday
What is mindfulness? 

What is mindfulness meditation practice? 

What meditation is not. 

Why meditate? 

How to start a meditation practice: posture, finding a suitable setting, appropriate time, consistency, timers to use (apps), and establishing breath as an anchor. 

Short practice session focusing on the breath. 
Saturday Morning 
Refined instructions for sitting meditation using the breath as an anchor. 

Practice session. 

Instructions on walking meditation. 

Practice sessions of sitting meditation and walking meditation interspersed with mindful movement of participants' choice (gentle yoga, stretching, even laying on the floor – participants will choose what they feel is right at that time for their body.) 
Lunch 12:30 to 2 pm 
Saturday Afternoon 
Practice sessions of sitting and walking meditation. 

Introduction to the body scan. 

Sitting and walking meditation interspersed with body scans and mindful movement. 
Sunday 
Short practice session of sitting meditation and walking meditation. 

Discussion of problems that can occur while meditating. 

Resources to continue and grow participants' practice of meditation.