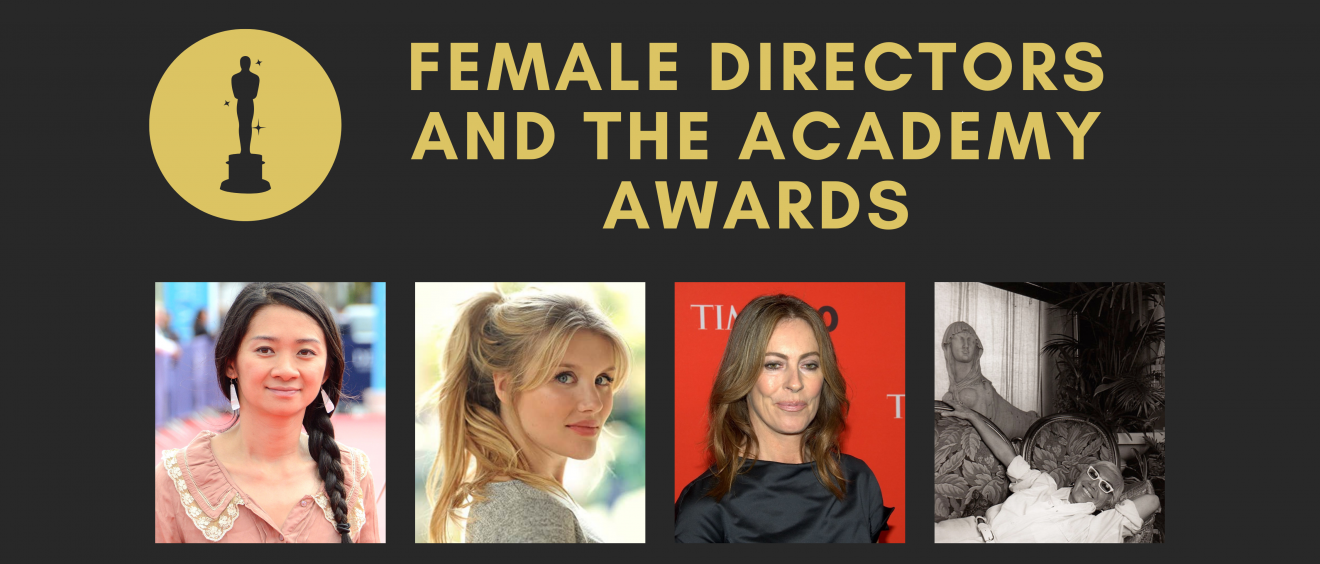 Female Directors and the Academy Awards
By Dylan May
As the 93rd Academy Awards came to a close this past month, history was made multiple times that night. Yuh-Jung Youn won Best Supporting Actress for her role in Minari, becoming the first Korean person to win the award. Emerald Fennell became the second solo woman to win an Oscar for Best Original Screenplay—for Promising Young Woman. Fennel was also nominated for Best Director alongside Chloé Zhao (Nomadland), marking the first time two women have been nominated for Best Director in the same year. Zhao made history again, by winning the award, becoming the second woman to do so and the first woman of color to win. 
Even though the Academy Awards are almost one hundred years old, inclusivity has been a major struggle for the awards show and for the industry itself. In its 93 years, the Academy has only nominated seven women in total for best director. As the academy has tried to take strides to address these problems, one can hope that Zhao's win is not an anomaly but a soon-to-be norm. 
Lina Wertmuller and Seven Beauties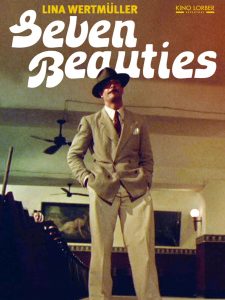 In 1977, Lina Wertmuller was nominated for best director at the 49th Academy Awards, becoming the first woman to receive this nomination. Getting her start working under Frederico Fellini, working as an assistant director on 8 ½, Fellini later supplied the crew for Wertmuller's first film, Basilisks, in 1963. However, it was Seven Beauties that garnered Wertmuller the academy award nomination. The film follows the story of Pasqualino Frafuso and his seven sisters, beginning the film in pre-World War II Italy. Pasqualino wanders through the film somewhat directionless while trying to marry off his sisters, who in his eyes are extremely ugly. One of his sisters begins a relationship with a pimp who employs her in a brothel. Feeling insulted by this turn of events, Pasqualino decides to murder the pimp and send pieces of his body to different cities in Italy. This, of course, does not go over well and he is brought to trial and later sent to an insane asylum. The film then follows Pasqualino's journey, ending in a Nazi concentration camp, where he is forced to choose six prisoners to be executed and kill his friend. 
Katherine Bigelow makes history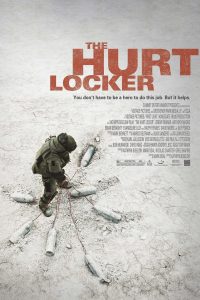 Another Academy first came thirty-three years later when Kathryn Bigelow became the first woman to win for best director, for her film The Hurt Locker. Graduating in 1979 with her Master's in Film from Columbia University, Bigelow quickly became a favorite of her teachers, winning the respect of Milos Forman with her short film The Set-Up. Following her graduation, Bigelow released her first feature film, Loveless, in 1981. The Hurt Locker (2008) follows the story of Staff Sergeant William James, whose recent assignment to a bomb squad has caused controversy with fellow army men. James' maverick mentality constantly puts his own life at risk and the lives of his squadron. His addiction to the war zone and high-intensity situations fuels James as he moves through dangerous situations throughout the film. At the finale of the film, James confesses to his infant son that the only thing he loves is the warzone and he redeploys.
While reviewing the film, Roger Ebert stated "The Hurt Locker is a spellbinding war film by Kathryn Bigelow, a master of stories about men and women who choose to be in physical danger. She cares first about the people, then about the danger. She doesn't leave a lot of room for much else." Bigelow would go on to be nominated for best picture with another war film, Zero Dark Thirty, where she explored the US government's use of torture techniques to gain information. This film received a heavy amount of criticism, many critics accusing the film to be pro-torture propaganda.
A Historic Year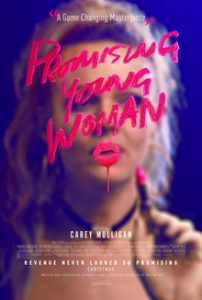 This year marked two firsts for Academy history, the first year two women were nominated for best director at the same time, and the first year a woman of color went home with the award. Emerald Fennell would go home for best screenplay, for her directorial debut Promising Young Woman. Starring Carey Mulligan as Cassandra, a woman looking for justice after her friend is brutally raped and later commits suicide. Cassandra begins to track down the people involved and exact her revenge, forcing them to confront what they allowed to happen by standing by and doing nothing. The film's climax follows Mulligan's character as she is about to confront the man who raped her friend. In an interview with Fennell for Variety, they write "[y]et if these descriptions make "Promising Young Woman" sound dogmatic, or strident, it never is: Against all odds, given its subject matter, the movie is fun as hell. "Promising Young Woman" combines elements from revenge movies, romantic comedies and suspense thrillers — brewed together to create something volcanic."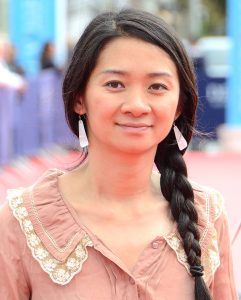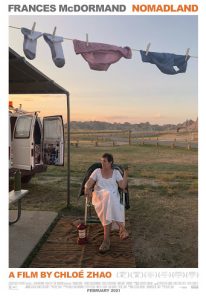 Chloé Zhao, the second woman nominated that night and winner, won for Nomadland which follows the story of Fern as she tries to find meaning in her life after she is let go from her job. Nomadland stars Frances McDormand as Fern, for which she won her third Oscar for best actress in a leading role. As a result of losing her job, Fern decides to sell most of her belongings and live out of a van to travel the country while looking for work. However, Fern quickly realizes that she is rather unprepared for a nomadic life after her van breaks down. Searching for help, she finds another nomad, Swankie, who aids her in getting a new part for her van and teaches Fern how to be self-reliant while on the road. After parting ways, Fern finds a job at the Badlands National Park and meets another nomad, Dave, who she had met previously while on the road. One night, Dave's son comes to visit and asks him to return with him to meet Dave's grandson. Though apprehensive at first, Fern encourages him and he decides to leave. Towards the end of the film, Fern returns home to sell off her remaining belongings and revisits her house and the factory she used to work in before setting off on the road once more. In a review by Brian Tallerico, he states, "The images of "Nomadland" that feel like answers to the unrest and anxiety of 2020 are the ones that contain so much beauty about the simplest things—the smile of a friend, a dip in a river, a kind gesture of a stranger. We may not all be able to relate directly to the struggles of Fern, but we can all feel that sense of unease and uncertainty. Maybe we should hit the road."