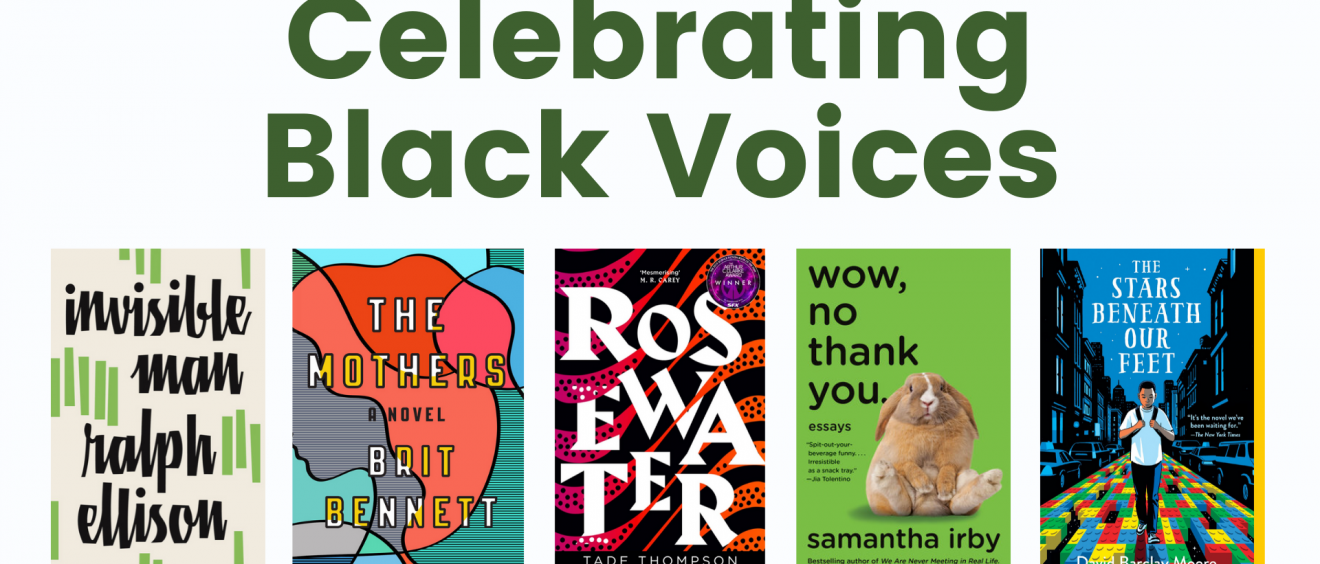 Celebrating Black Voices
In recent weeks, you may have seen many lists and posts on social media containing books about racism in the United States (1 2 3) and how to talk to your children about race (1 2 3). These books are great resources for white people and non-black POC to educate themselves on issues around racism and work towards being anti-racist. 
Now is also a good time to read stories from Black authors that explore and encapsulate the full range of human experiences. We want to take this opportunity to celebrate Black writers and poets for their significant contributions to art and culture. If you are looking for your next great read, we'd recommend one of these books by Black authors. From classics to modern romance, from mysteries to essays, there is something in this list for everyone. This is just the tip of the iceberg, and we encourage everyone to read other works by these authors and to seek out other Black authors, directors, artists, and creators! 
These books are available in our library catalog and/or through our digital collections.
Novels
Invisible Man by Ralph Ellison (Classics, Fiction)
An American Marriage by Tayari Jones (Fiction)
The Nickel Boys by Colson Whitehead (Fiction, Historical)
Queenie by Candice Carty-Williams (Fiction)
Song of Solomon by Toni Morrison (Classics, Fiction)
Native Son by Richard Wright (Classics, Fiction)
Another Country by James Baldwin (Classics, Fiction, LGBT)
The Mothers by Brit Bennet (Fiction)
Bluebird, Bluebird by Attica Locke (Mystery)
Casanegra by Blair Underwood (Mystery)
Devil in a Blue Dress by Walter Mosley (Mystery)
Waiting to Exhale by Terry McMillan (Fiction, Romance)
Get a Life, Chloe Brown by Talia Hibbert (Romance)
The Wedding Date by Jasmine Guillory (Romance)
Black Leopard, Red Wolf by Marlon James (Fantasy)
The Deep by Rivers Solomon (Fantasy)
She Would Be King by Wayetu Moore (Fantasy, Fiction)
Akata Witch by Nnedi Okorafor (Fantasy)
The Fifth Season by N.K. Jemisin (Science Fiction)
Parable of the Sower by Octavia Butler (Science Fiction)
Brown Girl in the Ring by Nalo Hopkinson (Science Fiction)
Rosewater by Tade Thompson (Science Fiction)

Nonfiction, Essays, and Poetry
In Search of our Mothers' Gardens by Alice Walker (Nonfiction)
The Complete Stories by Zora Neale Hurston (Short Stories, Folklore)
Hunger by Roxane Gay (Nonfiction, Essays)
Wow, No Thank You by Samantha Irby (Humor)
Sister Outsider by Audre Lorde (Essays, LGBT)
Citizen by Claudia Rankine (Essays)
Known and Strange Things by Teju Cole (Essays)
The Awkward Thoughts of W. Kamau Bell by W. Kamau Bell (Humor, Memoir)
The Collected Poems of Maya Angelou (Poetry)
Thomas and Beulah by Rita Dove (Poetry)
Silencer by Marcus Wicker (Poetry)
Wade in the Water by Tracy K. Smith (Poetry)
A Poem Traveled Down My Arm by Alice Walker (Poetry)
American Sonnets for my Past and Future Assassin by Terrance Hayes (Poetry)
Graphic Novels
Shuri by Nnedi Okorafor (Graphic Novel)
Excellence by Brandon Thomas (Graphic Novel)
Black by Kwanza Osajyefo (Graphic Novel)
Black Panther by Ta-Nehisi Coates (Graphic Novel)
Black Mage by Daniel Barnes (Graphic Novel)
Young Adult/Teen
On the Come Up by Angie Thomas (YA, Fiction)
The Stars and the Blackness Between Them by Junauda Petrus (YA, LGBT)
Dread Nation by Justina Ireland (YA, Horror)
Miles Morales: Spider-Man by Jason Reynolds (YA)
Swing by Kwame Alexander (YA, Fiction)
Pet by Akwawke Emezi (YA, Science Fiction, LGBT)
All Boys Aren't Blue by George M. Johnson (LGBT, YA, Memoir)
The Belles by Dhonielle Clayton (YA, Fantasy)
The Sun is Also a Star by Nicola Yoon (YA, Romance)

Children's Chapter Books
Brown Girl Dreaming by Jacqueline Woodson (Children's, Memoir)
My Life as an Ice Cream Sandwich by Ibi Zoboi (Children's, Fiction)
Ghost by Jason Reynolds (Children's, Fiction)
The Season of Styx Malone by Kekla Magoon (Children's, Fiction)
The Harlem Charade by Natasha Tarpley (Children's, Mystery)
The Stars Beneath Our Feet by David Barclay Moore (Children's, Fiction)
Nikki and Deja by Karen English (Early Chapter Book, Fiction)
Roll of Thunder, Hear My Cry by Taylor D. Mildred (Children's, Classic)