Blind Date with a Book Fundraiser
The Albany County Public Library Foundation's Blind Date with a Book fundraiser is back! Purchase one of several great packages to give the perfect gift this Valentine's Day and support your public library!
These Blind Date with a Book packages, based on popular TV series characters, are the perfect gift for a loved one on Valentine's Day or a fun way to celebrate a friendship for Galantine's Day. NEW! This year the ACPL Foundation has Blind Date with a Book packages for couples and kids!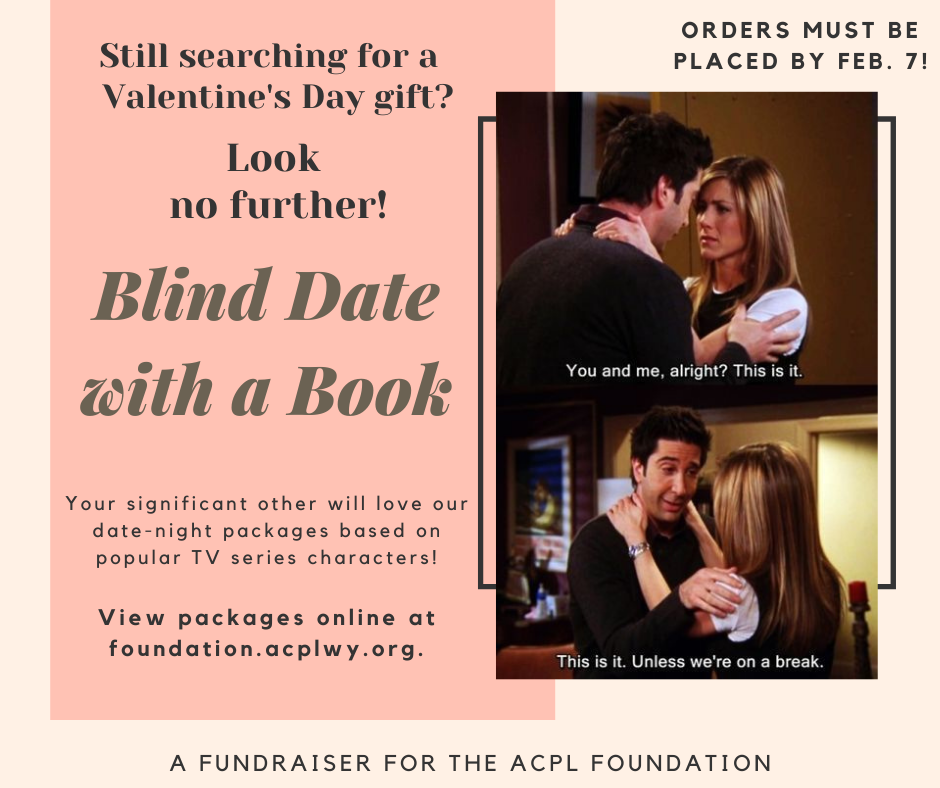 This Year's Packages:
The Leslie Knope, a 'Parks & Recreation' Pack
The Rose Nylund (aka The Betty White), a 'Golden Girls' Pack
The Mabel Mora, an 'Only Murders in the Building' Pack
The Rebecca Welton, a 'Ted Lasso' Pack
The Carrie Bradshaw, a 'Sex in the City' Pack
The David Rose, a 'Schitt's Creek' Pack
The Rip Wheeler, a 'Yellowstone' Pack
The Joey Tribianni, a 'Friends' Pack
The Roland & Jocelyn, a 'Schitt's Creek' Couples Pack
The Ross & Rachel, a 'Friends' Couples Pack
The Jim & Pam, a 'The Office' Couples Pack
A Kids Pack
How It Works:
Pick your package(s). *Each package will include a book in the noted genre, self-care items, and fun surprises based on each character.
Packages will be specially wrapped and include a personal note to your recipient. More specifics on each package are included below.
Pricing: This includes all of the items and a small donation to the ACPL Foundation. Thank you for supporting us!

Individual Packages: $30
Couple Packages: $75
Kid Packages: $15

You can choose to pickup your package(s) or we can provide local contactless delivery.
To order, visit the ACPL Foundation website.
Do not hesitate to contact us with questions: Caitlin White at cwhite@acplwy.org or 307-460-2481.
ORDERS MUST BE PLACED BY MONDAY, FEBRUARY 7, 2022