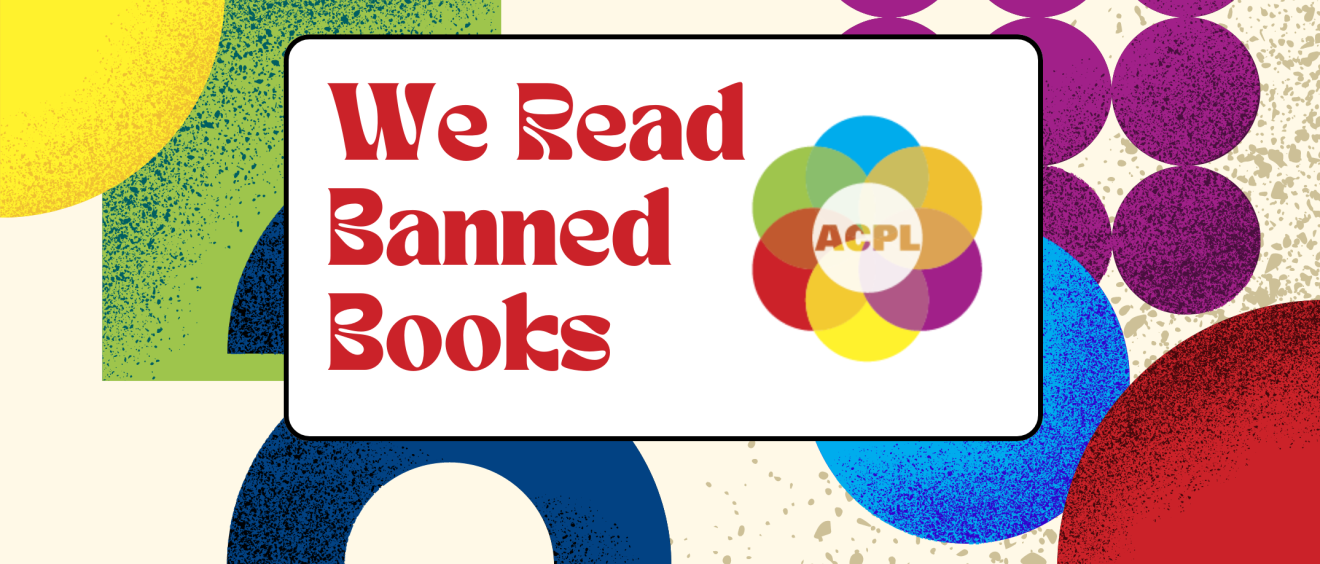 Banned Books Reading Challenge — 2022
Banned Books Week
During the last week in September, libraries will be participating in Banned Books Week. This week was created to raise awareness of censorship and to highlight books that are frequently challenged and sometimes banned. In 1982, after an onslaught of challenges and bans, Judith Krug, the Director of the Office of Intellectual Freedom for the ALA, created the week. As a fervent supporter of the First Amendment, Krug believed that libraries should not censor the materials that they carry and that it was in fact a disservice to do so. Krug pushed for laws that would keep all library patron's information private, especially pertaining to what they checked out. Like Krug, libraries all over our nation hold to these same principles and believe in the importance of information for everyone and pushing against censorship. 
This year is the 40th anniversary of Banned Books Week. From August 15th to September 30th we will be celebrating Banned Books Week and highlighting some of the books that have been banned this year and in the past.
Reading Challenge
From August 15 to September 30, you will be competing against Library Staff for bragging rights. Whoever reads the most banned books wins.

For every banned book you read, you can add a bead to a jar at the circulation desk.

Whoever has the most beads at the end of the challenge wins the bragging rights.

On top of the bragging rights, for the first 7 books you read, you will be entered into a raffle for a prize.

The prize drawing will be on September 30. All entries must be received by that day.
Some Banned Books available at ACPL
Absolutely True Diary of a Part-Time Indian by Sherman Alexie (YA fiction)
All Boys Aren't Blue by George Johnson (YA non-fiction)
And Tango Makes Three by Peter Parnell and Justin Richardson (picture book)
Anne Frank: The Diary of a Young Girl by Anne Frank (non-fiction)
The Bluest Eye by Toni Morrison (fiction)
Bone series by Jeff Smith (juvenile graphic novel)
Bless Me, Ultima by Rudolfo A. Anaya (fiction)
A Brave New World by Aldous Huxley (fiction)
Captain Underpants series by Dav Pilkey (juvenile fiction)
Carrie by Stephen King (fiction)
The Catcher in the Rye by J.D. Salinger (fiction)
The Color Purple by Alice Walker (fiction)
The Curious Incident of the Dog in the Night-Time by Mark Haddon (fiction)
The Dead Zone by Stephen King (fiction)
Drama by Raina Telgemeier (juvenile graphic novel)
Draw Me a Star by Eric Carle (picture book)
Eleanor and Park by Rainbow Rowell (YA fiction)
Extremely Loud and Incredibly Close by Jonathan Safran Foer (fiction)
The Family Book by Todd Parr (picture book)
Fifty Shades of Grey series by E.L. James (fiction)
Gender Queer by Maia Kobabe (YA graphic novel)
The Glass Castle by Jeannette Walls (non-fiction)
Goosebumps series by R.L. Stine (juvenile fiction)
The Handmaid's Tale by Margaret Atwood (fiction)
Harry Potter series by J.K. Rowling (juvenile fiction)
The Hate U Give by Angie Thomas (YA fiction) 
The House of the Spirits by Isabel Allende (fiction)
Hunger Games series by Suzanne Collins (YA Fiction) 
I Know Why the Caged Bird Sings by Maya Angelou (non-fiction)
In the Night Kitchen by Mauric Sendak (picture book)
The Kite Runner by Khaled Hosseini (fiction)
Melissa (previously titled George) by Alex Gino (juvenile fiction)
Nineteen Minutes by Jodi Picoult (fiction)
Of Mice and Men by John Steinbeck (fiction)
Prince and Knight by Daniel Haack (picture book)
The Things They Carried by Tim O'Brien (fiction)
To Kill a Mockingbird by Harper Lee (fiction)
Sex is a Funny Word by Cory Silverberg (juvenile nonfiction)
Slaughterhouse 5 by Kurt Vonnegut (fiction)
Uncle Bobby's Wedding by Sarah Brannen (picture book)
The Walking Dead series by Robert Kirkman (graphic novel)