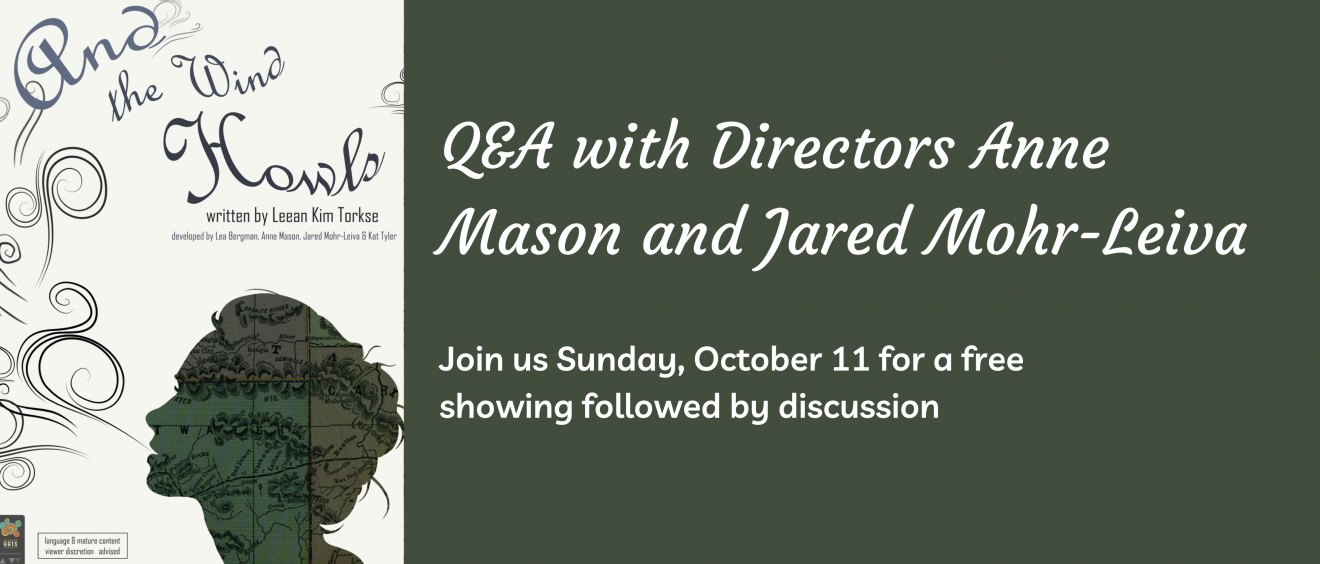 And the Wind Howls: Q&A and Free Screening
One hundred and fifty years ago, in 1870, thousands of women showed up at polls in Wyoming to cast their vote, thanks to a bill passed the previous year extending suffrage to women. This year also marks the 100-year anniversary of the ratification of the 19th amendment. Relative Theatrics' production of And the Wind Howls by Leean Kim Torske recognizes these milestone markers by exploring the present-day role of women in Wyoming society and politics.
The play explores themes of civic participation and life in small-town Wyoming. This production is a hybrid of film and theater adapted for the current pandemic and this time of social distancing.
The Albany County Public Library, in partnership with Relative Theatrics and the ACPL Foundation, is thrilled to present a free public showing of And the Wind Howls on October 11, 2020 at 7:00 p.m, followed by a panel discussion on civic engagement in Wyoming.
To sign up for this free event, click here.
Question and Answer with Anne Mason (Director of
And the Wind Howls
and Founder and Producing Artistic Director of Relative Theatrics) and Jared Mohr-Leiva (Director of
And the Wind Howls
)
How did you adapt production of And The Wind Howls during the current pandemic? Did any positive changes come from these new circumstances?
Anne Mason: Relative Theatrics has had the distinct pleasure of nurturing this story from the germ of an idea to a fully executed production with playwright Leean Kim Torske. The development process was highly collaborative and unfolded over the course of a year, starting in 2019. Well, as we all are aware, the world today looks remarkably different from even six months ago, so this play underwent many evolutions within a short period of time. We were fortunate to have an exceptionally talented, courageous team that embraced the twists and turns of the process. I think we all held a fierce desire to see this project come to fruition. I believe deeply in the questions, themes, and characters of the play, and in their relevance to Wyoming today. And with an election on the horizon, I found it more pertinent than ever to bring the story to life and to use this piece of theatre as a catalyst for civic engagement.
In figuring out how to adapt the process to our current world, we were blessed to have Kendall Yoder join our newly instated corps of artistic apprentices. Kendall, a recent graduate from Central Washington University with a major in filmwork and a minor in technical theatre, was able to handle the camera and editing components of our hybrid theatre/film production, so the rest of our team could focus on the theatrical elements that we hoped to capture. Alex Soto, Relative Theatrics' Production Manager, had new duties to oversee in her role as Stage/Set Manager. The core of her position is centered around facilitating communication, maintaining the artistic integrity of the show, and maintaining a written archive of the show, and while these primary jobs did not go away, the internal minutiae changed to focus on greater sanitation in order to keep rehearsal/performance space safe, sharper tracking of staging and props as a response to limited contact and proximity, and heightened compliance enforcement with safety protocols such as wearing masks at all times (except when actors are on set and the camera was rolling). We are already pretty used to creating dynamic physical storytelling in a small space – when at the Gryphon, our playing space is only 16×20 feet – so moving the set to an outdoor porch was one of the simpler adaptations, technique-wise. The play, which initially took place inside a kitchen, was able to maintain the essence of a live-in area, while providing ventilation and fresh air for our artistic team – it even added an unwritten fourth character, the ever-present Wyoming wind!
Jared Mohr-Leiva: Agreed—everyone adapted really easily to working in the new space, and I think that shift opened a lot of doors for us on a technical level. The open air allowed us an extra cushion of safety and plenty of room for all of the jobs happening behind the camera. With a typical stage production, the cast and crew are more spread out, both physically and in terms of time; actors may not interact much with the lighting designer, for example. That is not typically the case with film, especially outside. Since the lighting and noise levels fluctuate throughout the day, we really needed all hands on deck to monitor those changes and make adjustments as needed. After that, it all comes down to what the camera sees, so there were often three or four of us huddled in a corner or leaning over banisters to watch over Kendall's shoulder between takes. To that end, and to echo Anne, we had most of the creative team—some of whom were brand new to the company—taking on multiple roles and/or stepping into new ones. It was really exciting to have so many dedicated artists onboard, not only to their craft, but to the safety of our crew and audience, and to Relative Theatrics' mission of bringing risky, relevant, real theatre to our community. Now more than ever, the show must [safely] go on!
What were the biggest challenges?
AM: Our team was essentially creating a new art form that none of us had full knowledge of or expertise in. There was a lot of trust in the process that our creativity would be able to solve any unexpected hiccups that arose along the way. At times, we were racing the clock, trying to get a film shot before the sun directly on the set, ruining our shot. Jared and Justen Glover, our lighting designer, ended up taping sheets to the rain gutter in order to block the sun and buy us more time to get the take. One night it started raining just as we were about to start filming. I quickly ran inside my parents' house (they were graciously letting us use their property for the set) and collected garbage bags, tarps, and tape to help cover the equipment and keep everything safe. Jared held an umbrella to keep Kendall and John Wilhelm, our audio engineer, dry and we proceeded to film the scene. We were also limited in where we could go to source props, costumes, and set pieces for the production. In a normal time, we might be hitting up Goodwill, NU2U, Mimi's, Bart's, and more multiple times a week in order to find the perfect design element to finish the world of the play. Instead, Isa Jackowich, our costume designer, created detailed collages for each look and asked the actors to cull through our own closets to source the characters' wardrobes. We all had to be flexible, adaptable, and fully willing dive in blind. I am exceptionally proud of this artistic team and their work on this production. It's a true testament to the resiliency of the arts and proof of one of my favorite statements: there is no obstacle that our creativity cannot overcome.
JML: That statement has quickly become one of my favorites as well! My favorite aspect of theatre has always been collaboration. Earlier, I said "The show must go on." It's probably the most popular theatre cliche, I'm sure most have heard it somewhere in passing, but that is the sentiment at the heart of it: Regardless of the challenge, we, collectively, will find a solution. As the entire process is concerned, I felt our "biggest" challenges were relatively small: a scheduling conflict here, a barking dog in the middle of some scenes, and, as Anne mentioned, the rain. 
We did have a few discussions with Leean about how the state of the world had changed since we started working together last Fall, and would it be dangerous not to address that? Our show is set last summer, 2019. I think it's safe to say the average American's relationship to politics has changed pretty drastically in that time. Ultimately though, we realized that the socio-political themes of the play actually have a much broader reach in the current climate. They're closer to the front of our collective consciousness. While the play specifically focuses on present-day Wyoming women, Leean had already, very thoughtfully, addressed intersectional issues such as gender, race, sexual orientation, and class, that apply to any number of conversations being had today.
We are currently celebrating the centennial of the 19th amendment in the U.S. and 150 years of women voting in Wyoming, in what ways does And The Wind Howls recognize or interact with these landmarks?
AM: Our tagline at Relative Theatrics is Risky, Relevant, Real. We present contemporary, thought-provoking plays, with the intent of holding a mirror up to society and sparking important conversations in our community. When Michael Lange, Executive Director of the Wyoming Arts Council, first approached me about commissioning a play that celebrated 150 years of Women's Suffrage, I wondered what a modern-day suffrage play could look like. Well, as it turns out, it's not that big of a leap. Women voting in 1867 was a controversial act. They were taking a risk. Taking a stand. Using their voices to fight for what they believe in. They were social justice warriors, pushing against oppression, and paving the way for a better tomorrow. And that is exactly what Jen is learning how to do in her isolated home of (the fictional) Morristown, Wyoming. The right to vote is a gift. It is quite possibly the simplest way to make your voice heard. And The Wind Howls explores how to advocate and civically engage beyond the ballot box, but that's where it all starts. And that's exactly why this play is so important to share right now. Not only does this production coincide with revolutionary historical landmarks of Women's Suffrage, but we have released it as our country prepares for one of the most important dates of the year: November 3rd, 2020. What better way to celebrate 150 years of women voting in Wyoming, than by going out this fall and Voting In Wyoming?
What do you want people to take away from this production?
AM:  As Jen digs up the roots of Women's Suffrage in Wyoming, she learns that not everything can be seen through rose-colored glasses. Throughout the course of the play, we begin to see how complex identity, politics, life choices, and historical narratives are. Nothing is as black and white as it may appear when first presented. Each of the three women in the play must learn to seek perspectives other than their own, to ask questions, and to listen with an open mind and heart. Beyond that, I think the play emphasizes an importance on being an informed citizen. I hope this story inspires viewers to bravely and respectfully engage with controversial topics, to get educated about differing experiences, and to empathetically interact with others in their communities. I also hope it inspires young Wyomingites to envision a life for themselves in Wyoming – our future depends on it!
As Wyomingites, how did this story resonate with you?
AM: I was honored to bring these characters to life with Kat Tyler and Lea Bergman. Not only are they both phenomenally talented actors, they are lovely young women with inspirational stories of their own. All three of us were raised in Wyoming and own that aspect of our identities. And all of us were so grateful for a story that authentically represented our lived experiences. The ability to showcase a picture of the trailblazing women in Wyoming is an honor. And the ability to use art as a tool for societal improvement resonates deeply within me. Just like Jen, I believe in a better future for Wyoming. I'm proud to help make that change.
JML: "Authentic" is a keyword for me, as well. One of my first comments to Leean was "These characters feel like people I grew up with." Although I do not identify as a woman, and as such my experience is a bit different from our cast and characters, I am a smalltown LGBT Wyomingite, and it was both refreshing and affirming to read a script that addresses Wyoming's issues with equality without vilifying the state as a whole. One of the core messages in the play is that it is okay to have pride in your community and recognize its deficits, and that it is our responsibility (those of us who have the privilege of having our voices heard) to take care of our neighbors. It was truly an honor to be part of that conversation.
Thank you so much to Anne and Jared for their insightful answers and for the dedicated work bringing theater to Laramie!
AND THE WIND HOWLS is an ACPL Foundation mini-grant project. Thanks to Chris and Rebecca Merrill for funding this collaboration.