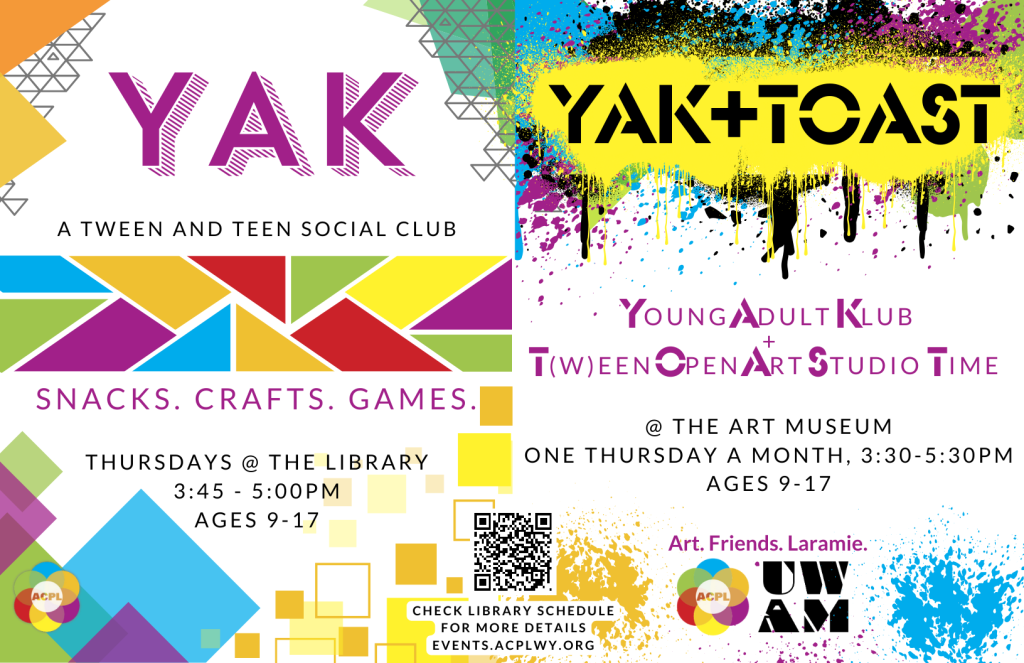 YAK is a tween and teen social club that occurs every Thursday.
Most Thursdays, YAK is at the library in the teen area from 3:45-5pm. We have snacks, crafts, and video games available, and sometimes we have a special guest or workshop.
Once a month, YAK teams up with TOAST (Teen Open Art Studio Time) and takes place at the University of Wyoming Art Museum from 3:30-5:30pm. YAK+TOAST offers snacks and a workshop on a certain type of art with all the supplies you'll need to create your own work.
YAK is always free. Tweens and teens are welcome (ages 9-17). If you have any questions email Clara at crobbins@acplwy.org.
Upcoming special YAK dates
September 14th: YAK+TOAST, patch-making
October 5th: YAK+TOAST, fiber arts - tie dye and stamping
November 2nd: YAK+TOAST, fiber arts - pouch-making and screen printing
December 7th: YAK+TOAST, paint-a-long