ACPL is continuing to update and adapt services. Find answers to some of our frequently asked questions.
If you do not find your answer here, please contact us at 307-721-2580 or info@acplwy.org.
---
How do I put an item on hold in the online catalog?
You may place a hold on any book at any Albany County Library branch, including the Laramie, Centennial and Rock River Branches. Holds from any Albany County library are free. To place a hold:
1. Go to the catalog.
2. Search for the book you would like to put on hold. You can search by title, author, subject, or keyword.
3. Once you have found the book and format you would like, click on the blue 'Place Hold' button to the right of the title.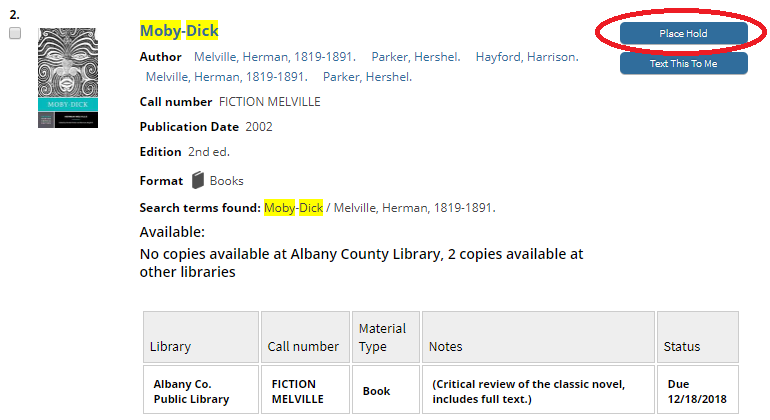 4. You may be prompted to provide your library card number (from the back of your card, with no letters or spaces) and your pin (the default pin is WYLD).
5. Click 'Place Hold(s)'. If the Action is Success, then the hold has been placed and we will contact you when the item is available for you to pick up.
You may view, remove, or suspend your holds from the Holds tab under My Account.
Once I've placed something on hold, how soon can I pick it up?
If an item is available, it takes at least 48 hours to process a request. It may take longer if the item you request is not yet checked in.
You will receive an email notification telling you your item is ready to be picked up.
If I can't use the catalog for a hold, how else can I reserve items?
You may call the library at 307-721-2580 between 10am – 2pm Monday through Saturday to reserve materials.

You may email info@acplwy.org with your library card number and the items you would like to reserve.
What are the library's hours?
At the Laramie Branch:
Grab & Go pick up is available 10am to 2pm on Tuesday, Thursday, and Saturday in the library meeting room.
Computer and printing access is available 10am to 2pm on Tuesday, Thursday, and Saturday.
Staff are available via phone 10am to 2pm Monday through Saturday.
Rock River and Centennial Branches have resumed regular hours.
Are there special hours for high risk community members?
Yes.

The library will be open for pick up 9am to 10am on Tuesday, Thursday, and Saturday for high risk patrons. 

High risk patrons also have the option to call the library when they arrive or from home to let us know you are on your way and we will bring the books to your car.
What if I don't know exactly what book I want?
If you have internet access, check out our

reading recommendation guides

.

Otherwise, call the library and ask! We're happy to help as best we can.
Do I need to wear a mask?
Yes, you need to wear some sort of face covering when you enter the library. Albany County's Health Officer continues to emphasize that this is a crucial step in lowering the risk of spreading the novel coronavirus. Everyone following this guideline is part of what allows us to continue to be open to the public.
How do I check my books out?
The books in the Grab & Go area are already checked out to your account. You can just grab them from the meeting room and go.  
I've returned my items. Why are they still showing up on my account?
We are quarantining all items for 72 hours upon their return. This means they will remain on your account for approximately 4 days after you return them. All overdue fees will be eliminated as soon as your items are checked in.
Can I request an Interlibrary Loan?
Not yet. We operate within a statewide consortium that supports interlibrary loans. There are not yet enough libraries in the state fully operational to make the system feasible. We don't have a timeline for this yet, but we will update our social media and website as the situation changes.
What if I have bills on my account?
ACPL is not charging overdue fines. The only bills that will accrue at this time are for lost or damaged items.

If you have bills on your account you would like to pay, you may pay over the phone or wait until the library is open to pay your bill.
Is Summer Reading still happening this year?
Yes! While it will look a little different, we are still running our summer reading program. It begins May 29 and ends August 25.
This year's theme is Imagine Your Story. Activities will center around myths, legends, and fairytales. Tales of heroes and heroines facing great challenges and exploring new worlds seem fitting for 2020.
 It is going to be a summer of great adventure, and we invite you to join us on this Summer Quest. Learn more and sign up for updates at summerquest.acplwy.org.
Who can participate in Summer Reading?
Everyone is welcome to participate! ACPL is offering four Summer Quest options for babies, kids, teens, and adults.
How do I sign up for Summer Reading?
Registration opens on May 29 and you can sign up online at summerquest.acplwy.org. Once you have signed up you can come to the library during Grab & Go hours to get your signup bag.
How do I get a Summer Reading Log?
This year we are introducing a system that will allow you to track your progress online and/or through an app. Get started at summerquest.acplwy.org
Paper logs will also be provided in your signup bags. These will be available during Grab & Go hours starting May 30.
What about the prizes?
Participants in the Babies, Kids, and Teen Summer Quests will receive a prize after they have completed their full quest. Participants in the Adult Summer Quest will earn raffle tickets to be entered into drawings for one of four baskets with goodies from local businesses. Additional information about prizes is available in the online tracking app. Sign up at summerquest.acplwy.org.
Participants in the Baby, Kid, and Teen Quests will receive sign up bags with a few treats and surprises to support their Summer Quest. 
Will there be any programming?
We will be offering online programs starting June 15. Including Book Babies, special Wednesday programming for kids, and weekly YAK! Hangouts for teens, all via Zoom.
Follow ACPL on Facebook or view the events calendar for up to date information. Quests always come with unexpected adventures, so check back frequently to learn about new program offerings.
Is Stories at the Park happening this year?
Stories at the Park is tentatively slated to start sometime mid-July. We will announce an official start date at the end of June.