Laramie Branch Hours
Tuesday and Thursday 10am – 6pm; Saturday 10am – 2pm
Phones: Monday-Friday 10am – 6pm; Saturday 10am – 2pm
Grab & Go and Curbside Pickup: Monday-Friday 10am – 6pm; Saturday 10am – 2pm
Reserve your library items ahead of time. Once they are ready, pick them up in an easy, no contact way in our front lobby.
How do I put an item on hold in the online catalog?
You may place a hold on any book at any Albany County Library branch, including the Laramie, Centennial and Rock River Branches. Holds from any Albany County library are free. To place a hold:
1. Go to the catalog.
2. Search for the book you would like to put on hold. You can search by title, author, subject, or keyword.
3. Once you have found the book and format you would like, click on the blue 'Place Hold' button to the right of the title.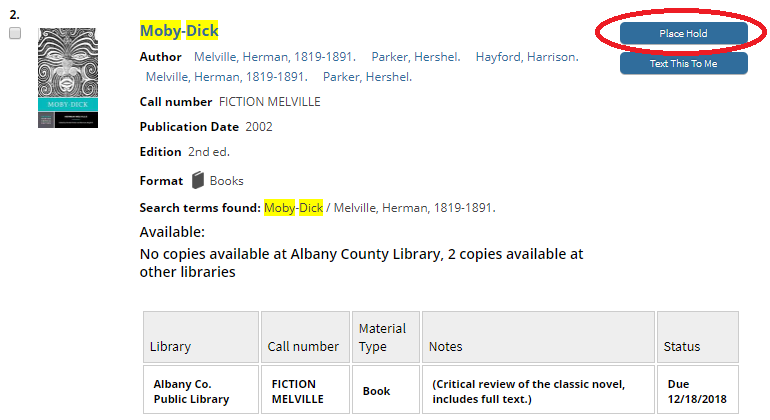 4. You may be prompted to provide your library card number (from the back of your card, with no letters or spaces) and your pin (the default pin is WYLD).
5. Click 'Place Hold(s)'. If the Action is Success, then the hold has been placed and we will contact you when the item is available for you to pick up.
You may view, remove, or suspend your holds from the Holds tab under My Account.
How will I know when my hold is ready?
You will receive an email or a phone call when your hold is ready to be picked up.
If you requested multiple items, please be aware that they may become available at different times. The email will indicate exactly which items are available for pick up.
It will take at least 48 hours for a hold to be available, but it could be longer if the materials you are requesting are already checked out by another library patron.
*Interested in having your items delivered? Try Delivery by Donation through the ACPL Foundation! Learn more here.
If I can't use the catalog for a hold, how else can I reserve items?
You may call the library at 307-721-2580 between 10am – 2pm Monday through Saturday to reserve materials.

You may email info@acplwy.org with your library card number and the items you would like to reserve.
What if I don't know exactly what book I want?
If you have internet access, check out our

reading recommendation guides

.

Otherwise, call the library and ask! We're happy to help as best we can.
Do I have to place individual holds if I just wanted assorted children's books?
If you don't have specific children's books in mind, just give us a call. We would be happy to pull an assortment of books for your family and save you the trouble of placing individual holds.
Do I need to wear a mask?
Yes, you need to wear some sort of face covering when you enter the library. Albany County's Health Officer continues to emphasize that this is a crucial step in lowering the risk of spreading the novel coronavirus. Everyone following this guideline is part of what allows us to continue to be open to the public.
How do I check my books out?
The books on the Grab & Go cart are already checked out to your account. You can just grab them from the cart and go! 
Request your items using the directions above. When you get a notification that your books are available, give us a call any time we are open at 307-721-2580 and we will bring your books out to your car.
Delivery by donation
The Albany County Public Library Foundation is offering deliveries for a small donation. Delivery is available Mondays, Wednesdays, and Fridays once your items have become available. Learn more on the ACPL Foundation website.
The library is open to the public Tuesday and Thursday 10am-6pm and Saturday 10am-2pm. No reservation required
Do I need to wear a mask?
Yes. We require face coverings to be worn for all library services. This includes Grab & Go.
Are you accepting donations?
Yes, we are accepting donations during our open hours.
Are computers and printing available?
Yes. Computers, printer, and copier are available for public use.
Please be aware that staff may only be able to provide minimal assistance.
Frequently Asked Questions
Can I request an Interlibrary Loan?
Yes! We have begun processing interlibrary loan requests. However, we are only processing requests for items from other Wyoming Libraries at this time. These requests can be placed through the online catalog.
I've returned my items. Why are they still showing up on my account.
We are quarantining all items for 72 hours upon their return. This means they will remain on your account for approximately 4 days after you return them. All overdue fees will be eliminated as soon as your items are checked in.
Is delivery available?
The ACPL Foundation is offering Delivery by Donation! For a small donation, you can have your items delivered. Contactless delivery available. Learn more here.
Do I need to wear a mask?
Yes! In order to comply with the current public health order and protect the health and safety of our staff and community, we require face coverings to be worn for all library services. This includes curbside pickup, Grab & Go, and Reservation slots.
What if I have bills on my account?
ACPL is not charging overdue fines. The only bills that will accrue at this time are for lost or damaged items or ILL fees.
If you have bills on your account you would like to pay, you may pay over the phone or at the front desk when we are open. We are currently accepting cards, checks, or cash. Unforntunately, we cannot give change at this time.
How do I sign up for a library card?
Fill out our online request form. A staff member will get back to you with your library card number.
At your convenience come into the library with your ID and proof of address to pick up your card.
ACPL is continuing to update and adapt services.
If you do not find your answer here, please contact us at 307-721-2580 or info@acplwy.org.